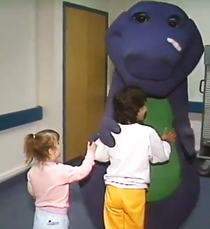 Major Events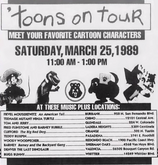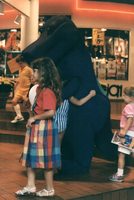 Unknown Date: Barney visits a local mall.
January 27: Three Wishes is released to stores.
March 25: Barney makes one of his first public appearances at the Music Plus store in Sherman Oaks, CA.
June 4: A Day at the Beach is released to stores.
November: Waiting for Santa and Campfire Sing-Along are both filmed.
December: Barney appears at Dallas Children's Medical Center and three other Dallas and Fort Worth hospitals to benefit children.
Barney & the Backyard Gang
New Barney Songs
Cast & Crew
Cast
Crew
Executive Producers
Editors
Doug Wilson
Tony Metcalf (Offline Editor)
Teri Peabody (Offline Editor)
Assistants
Nome (Second Assistant Director)
Terrie Davis (Assistant Director)
Larry Baker (Assistant Director)
James Johnson (Studio Assistant)
Beverly Girou (Production Assistant)
Alison Smith (Production Assistant)
Kevin Tarleton (Scenic Assistant)
Don Clark (Set Assistant)
Steve Jordan (Set Assistant)
Writers
Directors
Shirley Abrams (Casting Director)
Jamie Ruth Conner (Art Director)
Tom Adler (Audio Director)
Bob Dracup (Lighting Director)
Bob Driskell (Lighting Director)
Stephen Bates Baltes (Musical Director)
Producers
Supervisors
Dwin Towell (Technical Supervisor)
David Boothe (Post Production Audio Supervisor)
Laurie Harmon (Script Supervisor)
Craig Arneson (Scenic Supervisor)
Operators
Chris Brock (Camera Operator)
Jay Burney (Camera Operator)
Eric Norberg (Camera Operator)
Victor Sosa (Camera Operator)
Stacy Brownrigg (Boom Operator)
Michael Henning (Boom Operator)
David Smith (Boom Operator)
Daniel Clear (Crane Operator)
Chris Thornton (Crane Operator)
Managers
Mary Dennistoun (Production Office Manager)
Robin Mulford (Floor Manager)
Terrie Davis (Floor Manager)
DeDe Dunham (Wardrobe Manager)
Lyricist/Composer
Animators
Dave Holman
Michael Fleming
Linda Johnson
Rudi Perez
Engineers
Michael Haines (Audio Engineer)
Randy Breedlove (Video Engineer)
Scott Hamil (Video Engineer)
Cindy Speer (Video Engineer)
Audio
Artists
Nena Smartz (Makeup Artist)
Stylists
Bonnie Clevering (Hair Stylist)
Designers
Grips
Kerry Rike (Key Grip)
Juan Romero (Best Boy Grip)
Carl Stitt
Electricians
Bill Greenberg
John Jacobie
Kent Land
Painters
Travis Tyre (Scenic Painter)
Nettie Weber (Scenic Painter)
Effects
Randy Moore (Stage Effects)
Stunts
Randy Bishop (Third Coast Stunts)
Production Mixer/Music Recordings
Decorators
Anita Dallas (Set Decorator)
Lyricists/Composers
Stephen Bates Baltes
Lory Lazarus
Choreographers
Property Master
Community content is available under
CC-BY-SA
unless otherwise noted.