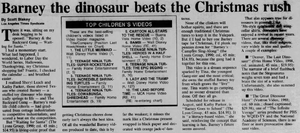 Major Events
The Barney Fan Club offers free Barney dolls to members.
February 15: The Lyons Group partners with Blockbuster Video to hold The Barney National Talent Search.
May 1: Waiting for Santa is released to stores.
June 1: Campfire Sing-Along is released to stores
June: Barney Goes to School starts production.
August 1: Barney Goes to School is released to stores. This is also the final Barney video to be written by Frank Olsen.
November: The first six Barney & the Backyard Gang videos aired on the Disney Channel as a part of Lunch Box.
Barney & the Backyard Gang
New Barney Songs
Cast & Crew
Cast
Crew
Executive Producers
Editors
Cindy Speer (Special/Sound Effects Editor)
Assistants
Larry Baker (Assistant Director)
Terrie Davis (Assistant Director)
Genia Christine (Assistant Director/Production Assistant)
Todd Davis (Studio Assistant)
James Johnson (Studio Assistant)
Lisa Escaloni (Production Assistant)
Cindy Speer (Assistant Audio Editor)
Designers
Jess Nelson (Set Designer)
Max Cooksey (Scenic Designer)
Susie Thennes (Barney's Hat Designer for Barney Goes to School)
Writers
Directors
Elizabeth Velten (Art Director)
Murray Campbell (Lighting Director)
Billy Velten (Lighting Director)
Shirley Abrams (Casting Director)
Bob Singleton (Musical Director)
Construction
Jess Nelson (Set Construction)
Ray Henry (Set Construction)
Carpenters
Charles Bailey (Set Carpenter)
Fabricators
Craft Services
Swing Crew
Santiago Luna
Abdon Molina
Raphael Aquilar
Blass Gutuirez
Mixers
David Boothe (Production Mixer)
Photographers
Chris Smith (Still Photographer)
Seamstresses
Artists
Nena Smarz (Makeup Artist)
Supervisors
Paula Barrett (Script Supervisor)
Linda Yost (Child Supervisor)
Nancy Breedlove (Child Supervisor)
David Boothe (Post Production Audio Supervisor)
Operators
Paul Gore (Camera Operator)
Patrick Gutierrez (Camera Operator)
Jim Conrad (Camera Operator)
Phil Allison (Boom Operator)
Randy Breedlove (Videotape Operator)
Nancy Breedlove (Chyron Operator)
Managers
James Edwards (Floor Manager)
Karen Pigg (Production Office Manager)
Lisa Albertson (Wardrobe Manager)
Lead Man
Grips
John Knight (Key Grip)
Phil Fulton (Key Grip)
Michael Yope (Best Boy Grip)
David Adams (Best Boy Grip)
Chris Childs
Burton Knight
Electricians
Foley
Producers
Lyricist/Composers
Phil Parker
Bob Singleton
Lawrence I. Haron
Engineers
Scott Hamil
David Boothe (Audio Post Production Engineer)
Consultants
Deborra Murphy (Program Consultant)
Graphics/Animation
Michael Fleming
Linda Hamil
Choreographer
Property Masters
Max Cookey (Speciality Props)
Community content is available under
CC-BY-SA
unless otherwise noted.