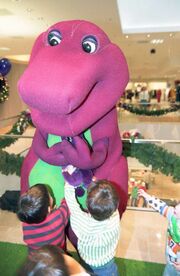 Major Events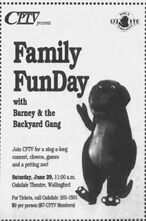 January 22: The trademark was registered.
February 15: Barney Goes to School re-aired on the Disney Channel Lunch Box/Music Box.
March: Barney in Concert is taped at the Majestic Theater in Dallas, Texas. Baby Bop makes her first appearance.
April: Rock with Barney is filmed.
May 2: PBS, CPTV and The Lyons Group reach an agreement to bring Barney to PBS.
June 29: CPTV hosts "Family FunDay with Barney and the Backyard Gang" at the Oakdale Theatre in Wallingford, CT.
July 29: Barney in Concert is released to stores.
August: Rock with Barney is released exclusively in Neiman Marcus stores.
October: Production begins on the first season of Barney & Friends.
November 22: Barney makes an appearance at Neiman Marcus at the Galleria in Houston, Texas.
Barney & The Backyard Gang
New Barney Songs
Cast & Crew
Cast
Crew
Executive Producers
Publishers
Concept
Editor
Writers
Sheryl Leach 
Kathy Parker
Mixers
David Boothe (Production Mixer)
Chris Kudrna (House Mixer)
Technicians
Jimmy Hix (Gemini Audio Technician)
Omega Audio Crew
Donna Christiensen
Paul Christiensen
Julie Haldeman
Steve Lowney
Danny Miller
Mike Williams
Seamstress
Artists
GiGi Coker (Makeup Artist)
Communications
Utility
Cable Pullers
David Hockemeyer
David Moxley
Assistants
Pat Myer (Majestic Assistant Manager)
Jan Hitchborne (Majestic Assistant Manager)
Linda Yost (Wardrobe Assistant)
Cindy Speer (Audio Assistant)
Lynn Carlton (Production Assistant)
Donna Frankhauser (Production Assistant)
Nancy Jones (Production Assistant)
Debi Ries (Production Assistant)
Designers
Jess Nelson (Production Designer)
Directors
Heather Smith (Associate Director)
Shirley Abrams (Casting Director)
Elizabeth Velten (Art Director)
Lowry Perry (Lighting Director)
Stacey Smith (Technical Director)
Bob Singleton (Musical Director)
Larry Haron (Musical Director)
Production Associates
Construction
Charles Bailey (Set Construction)
Ray Henry (Puppet Construction)
Fabricators
Orfillio Molina
Norine Henry
Carol Nelson
Swing Crew
Santiago Molina (Swing Crew Chief)
Havier Lizama
Valario Molina
Representatives
Jim Aman (Business Representative)
Photographer
Dennis Full (Still Photographer)
Producers
Teri Peabody (Associate Producer)
Supervisors
David Boothe (Audio Post Production Supervisor)
Randy Breedlove (Technical Supervisor)
Rita Blanchard (Child Supervisor)
Holly Thompson (Script Supervisor)
Operators
Clay Armstrong (Camera Operator)
Chris Childs (Camera Operator)
Bruce Deck (Camera Operator)
Eric Norberg (Camera Operator)
Victor Sosa (Camera Operator)
Bink Williams (Senior Video Operator)
Steve Tennison (Videotape Operator)
Engineers
David Boothe (Audio Post Production Engineer)
Glen Anderson (Engineer in Charge)
Graphics/Animation
Managers
Lisa Albertson (Wardrobe Manager)
Holly Thompson (Script Supervisor)
Charlotte Spivey (Stage Manager)
Kevin Spivey (Stage Manager)
Ron Brooks (Majestic Stage Manager)
Lyricists/Composers
Bob Singleton
Phil Parker
Choreographer
People
Born