A Day At The Beach is the third video in the Barney & The Backyard Gang series, originally released in February 24, 1989.
Plot
Michael and Amy (along with the rest of the gang) are excited to go to the beach, until their father has to work the day they were planning to go. Disappointed, no one knows what to do until Barney comes to life. Not knowing Barney, the rest of the gang are surprised at the six-foot purple dinosaur appearing before them. Shyly, Tina comes and she gives Barney a hug after he introduces himself in song.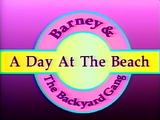 With the power of imagination, Barney transports the kids to the beach on a flying swimming pool. From searching for shells to exploring a pirate ship, Barney and the Backyard Gang have fun exploring all that the beach has to offer. They even go under the sea, meeting Barney's friend, Molly the Mermaid, before returning home safely.
Educational Theme: Using Your Imagination and Beach Activities
Stories: None
Cast
Songs
Gallery
Releases
Other
Trivia
This video serves as the pilot which takes place before all the other videos in the Backyard Gang series, since most of the gang meet Barney (with the exceptions of Michael and Amy).
Sandy Duncan is given the most screen time in this video, taking over much of the first third of the episode.
This video is revealed that Tina is 4-years-old in this video.
This video marks:
Due to the blue screen effects, Barney appears an eggplant purple or almost gray in some scenes, while he is usually a bluish-purple color.
This video won a Parents' Choice Award in 1989.
Production for this video (along with The Backyard Show and Three Wishes) took place in June 1988.
Goofs
The Barney doll's position on the chair changes through out the beginning of the video. In addition, after Mom sets him down, he disappears during the song, "The More We Get Together". Then, he reappears (most likely a reused shot) when the kids hear his voice.
On the Pirate Ship, during shots of the whole ship and cast, the studio can be seen just slightly above the set.