A Very Merry Christmas is a Barney Clip Show that was released on October 11, 2011. It features scenes from Seasons 10-11 of Barney & Friends.
Plot
Barney and the kids are decorating the caboose for Christmas. Barney explains the concept of "Snowflake Buddies", in which one chooses a paper snowflake, and gives the person who's name is written on the snowflake a gift. Baby Bop then arrives with a long Christmas wish-list, so Barney and his friends explain to her that Christmas is also about giving. Later, the group decides to write Christmas cards to their friends, as well as Santa Claus. Later, they act out a Christmas story of "The Nutcracker".

Stories
Cast
Songs
Gallery
Releases
Behind the scenes
Production
Production for this video took place in December 2010.
Trivia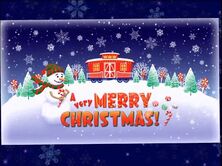 Footage
Characters
This video marked:

The final appearance of Joshua.
Release date