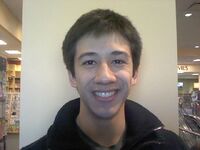 Austin Torres Ball (born on June 13, 1989 in Dallas, Texas) is the actor who played Jeff on Barney & Friends from Seasons 4-6.
About Austin Ball
Austin Ball was born to Jerome Ball, a Hispanic father; and Jocelyn Torres-Ball, a Filipino mother. He has 2 younger siblings, Carson and Kelsey.
Austin Ball attended the University of Texas, earning a B.A. in Philosophy in 2011 and a B.S. in Computer Science in 2014. From 2011 to 2012, he worked in marketing for Spectacle Inc. in Providence, Rhode Island.
Austin Ball currently lives in Austin, Texas and he works as a software developer at innoWake.[1][2]
References