BJ is a main recurring character on the television series, Barney & Friends.
A seven-year-old yellow Protoceratops, BJ made his first appearance in season two of the show[2] with the episode, "Look At Me, I'm 3!", in 1993. He debuted as a six-year-old, but eventually turned seven in the national stage show tour of Barney's Big Surprise (1996-1998).
BJ is a good friend of Barney's and the older brother of Baby Bop, whom he frequently calls "Sissy", though on rare occasions, he does call her by name. He is also Riff's cousin and his best friend.
BJ is described as an impulsive dinosaur[3] but is always eager to help his friends. As an active seven-year-old, BJ also likes to run, jump, and ride around on his red scooter. Although he loves baseball, basketball and soccer, it's safe to say that BJ has never met a sport he didn't like. He also likes to play the drums and the guitar. It was established in Come On Over to Barney's House that he also played drums in his rock band, 'BJ and the Rockets'. BJ enjoys to pretend to be Captain Pickles, his superhero alter-ego, with the name being a nod to his favorite snack, pickles.
BJ's theme song is none other than the titular, "BJ's Song".
History
Creation
The writers on Barney & Friends added BJ because they wanted a sibling relationship to work with (as characters Barney and Baby Bop are just friends) in order to have more relatable stories that children watching could understand and relate to. [4]
Naming
BJ was named after Sheryl Leach's father, Billy Joe "B.J." Stamps.[5] Originally spelled B.J., the name was reduced to simply BJ starting in Barney's Fun & Games, to avoid questions as to what the name stood for.
Costume
History
The initial design of BJ was created by an individual in the marketing department for The Lyons Group, owners of Barney & Friends. Irene Corey, who built the original costumes for Barney and Baby Bop rejected and refused to build the design that was conceived. Jess Nelson, a production designer for the show, was tasked by Leach to use some elements from the initial sketch and Irene Corey's feedback when reworking BJ's design. The suit was then built by Irene Corey and her niece Suzanne Lockridge.
When the costume builders were developing the dye formula for the costume, they initially made his color far too bright. This became a problem for the video engineers in the control room as BJ's color was spiking the camera equipment, causing everything else in the shot to dim. Jess Nelson solved this issue by adding a little black to BJ's dye formula!
On camera, unseen in any final videos, BJ's color was seen as white as opposed to being yellow on camera, which was a similar occurrence that happened to Barney where his color turned blue as opposed to purple. BJ's white color caused the video electronics to spike and automatically dim the video feed during the early stages of production.[6]
Design
In BJ's early appearances seen on the show, he was slightly taller than Barney. BJ was redesigned in Season 3; his height was shrunken to better suit his age of six-years-old (and later seven).
BJ always wears his red baseball cap with his red and white sneakers. He has three hairs on his frill that goes in front of his baseball cap.
See Also: BJ Through the Years
Portrayal
Body Portrayal History
One mannerism for BJ is that whenever he's stationary, he would keep his arms moving.[7]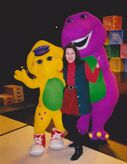 Voice Portrayal History
BJ's voice was originally a much deeper voice when he debuted in "Look At Me, I'm 3!". The voice became higher pitched as time passed throughout the years, to fit his young age and as he shrunk down to scale.
Actors
Costume Actors
Voice Actors
Trivia
Voices
Appearances
See Also
References