"BJ's Really Cool House" is the twentieth and final episode from the seventh season of Barney & Friends. It is a semi-remake of "Room for Everyone" and "It's Home to Me".
The park is a home away from home for Barney and his friends, but BJ wants to build his very own "totally awesome, completely cool" house. While BJ works on his house, Barney teaches the kids about houses and homes through songs such as "That's a Home To Me" and by using his laptop computer to show them a variety of homes from around the world. Following is an impromptu show about fanciful nursery rhyme homes. When a picture puzzle of rooms in a house triggers a series of make-believe activities, a toy kitchen yields yummy macaroni and cheese, and a bubbling bathtub is the right place for Baby Bop's bath. BJ thinks his house is finished, but discovers he's forgotten something and needs to make room for someone he loves - Baby Bop! Barney reminds them that a family and loving friends make a house a home.
Ending Intervals: Share a Smile and Cover Your Sneeze, Please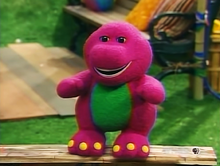 Working Title: "A Totally Awesome House"
Jennifer Gibel performs Baby Bop in this episode.
International EditsEdit
In some international versions, this episode was shortened.