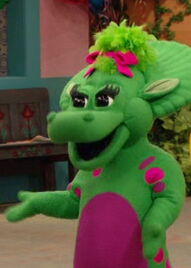 Baby Bop
is a minor character in the
Backyard Gang video series
and a main character in the
Barney & Friends
television show. She is a bright green
triceratops
, and one of
Barney
's best friends.
Creation & Biography
According to the co-creator to Barney, Sheryl Leach, Baby Bop was created as a foil character to Barney. Whereas Barney is outgoing but down-to-earth, Baby Bop is very shy but can be ecstatic at times due to her young age. Originally, Baby Bop was two years old, but turned three in "Look at Me, I'm 3!".
Baby Bop made her initial debut in Barney in Concert (1991) and she has been on the show ever since then. Her name was given by The Backyard Gang.
Personality
Baby Bop is like many precocious children her age. She loves to carry her yellow blanket around and is almost never even seen without it, calling it her "blankey". Baby Bop's favorite toy doll is her stuffed teddy bear, something she loves almost as much as her blanket.
She is an avid dancer, and has taken many ballet classes to pursue this hobby.
Baby Bop's favorite food is macaroni and cheese, but she still likes many other foods such as apples and bananas, popcorn, and even pizza. She loves tea parties, and will try to host them with as many of her friends as she can. One of her favorite animals at the zoo is an elephant. She has an elephant doll named Nelly.
Appearance and Design
Baby Bop is known for wearing a pink bow in her hair and pink ballet slippers on her feet. Her colors are an inverse of Barney's purple and green color scheme, sporting a green body with purple-pink spots. Baby Bop also has rather large eyelashes, and a tuft of hair beneath her crest.
Baby Bop's general appearance has gone through several changes over the years. When she made her debut in "Barney in Concert", she was taller than the kids and about the very same height as Barney, clocking in at about 5'7'. She also used to speak in third-person, rather than first-person.

In Season 2, Baby Bop got shorter to better suit her age of two (and later three) years old. In Season 3, Baby Bop was redesigned slightly so that her jaw could move. Her design has remained this way since then.
Portrayal
Costume Actors
Voice Actors
Trivia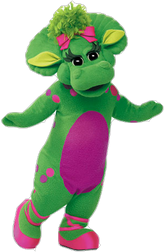 Appearances
See Also
Community content is available under
CC-BY-SA
unless otherwise noted.