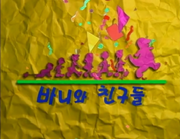 Baniwa Chingudeul (바니와 친구들) was the second co-production of Barney & Friends. Produced by production company K-Best, this co-production aired on the Korean Broadcasting System from November 4, 2001 to September 26, 2003. The episodes were based on Seasons 1 to 6, adapted and translated from the original English versions with different changes.
The third generation was dubbed (with all of the songs but the intro left in English), airing on network EBS from 2005 to 2010.
Cast
Barney (voice) - Lee Jang-Won
Barney (body) -
Baby Bop (voice) - Jo Jin-Sook
Baby Bop (body) -
BJ (voice) - Gu Min-Sun
BJ (body) -
Seung Jun
Songi
Seo Young
Mi Hyun
Mina
Min-Kyung
Sungjin
Coby (koala equivalent of Miss Etta Kette) - Gu Min-Sun (voice)
Dedeu (mouse equivalent of Scooter McNutty) - Jo Jin-Sook (voice)
Dannyunchi (equivalent of Stella)
Episode List
(Note: This list remains incomplete and contains episodes confirmed through video releases and songs from Baniwa Chingdeul Theme Song Collection. This episode list is sorted by the original US series, as the KBS airdates and episode order remain unknown.)
Exciting Imaginative Play (신나는 상상놀이)
Exciting Treasure Hunt (신나는 보물찾기)
Barney's Animal Farm (바니의 동물농장)
We Will Protect It (우리가 지킬래요)
"I Just Love Bugs" (난 그냥 벅스를 사랑해)
When I Grow Up... (내가 자랄 때...)
Grandparents Are Grand! (조부모님은 위대하십니다!)
A Day to Be a Grownup (어른이 되어 보는 날)
Barney's Circus (바니 서커스단)
My Favorite Thing (내가 가장 좋아하는 것)
The Dentist Makes Me Smile (치과 의사는 나를 미소 짓게합니다.)
Shawn & the Beanstalk (숀과 콩나무)
Beep Beep! Honk Honk! Let's Go! (뛰뛰빵빵 놀아봐요)
Letter Play, Number Play (재미있는 학교놀이)
Precious Trees (소중한 나무)
It's Good to Clean (깨끗이 빗어야 건강해요)
We are Good Siblings (우린 사이 좋은 남매)
Books are Fun (책은 재미있다)
Our Precious Family (소중한 우리 가족)
Barney's Band (바니의 악단)
Colorful Color Play (아름다운 색깔 찾기)
A Very Special Mouse (아주 특별한 마우스)
A Sunny, Snowy Day (화창하고 눈 덮인 날)
Trivia
At the end of every episode of this series, the Seasons 4-6 version of I Love You is always sung by Barney and the kids, who do not leave the set. Instead, Barney disappears during the second section of the song, and they hug each other after the song ends, as the camera zooms over to the Barney doll. (In "Down on Barney's Farm", the camera fades to the doll instead of panning.) However, a few episodes, like "Colors All Around", have an ending in the American format, where the kids say goodbye to Barney and leave before he turns back into a doll.
Gallery