Barney's 1-2-3-4 Seasons is a Barney Home Video that was released on August 6, 1996.
Plot
BJ just can't wait to play all of his favorite outdoor games and sports. But it never seems to be the right season of the year. Barney and the kids help BJ with four magical jars and a little bit of imagination, help him experience spring, summer, fall, and winter - all in one fantastic day of seasonal fun!
Cast
Songs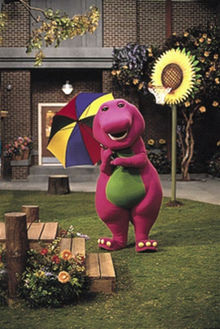 "Growing"
"I Just Can't Wait" (Reprise)
Gallery
Releases
Scenes
Trivia
In this video, the arrangement of "Winter's Wonderful" would later be used in Barney's Night Before Christmas, with some instruments changed.
If you look really close when Barney goes to his closet to get some hats for BJ and the kids, you can literally see that that there really is not a closet behind the tree.
Baby Bop was mentioned in this video.
This video was released on Ella Jenkins' 72nd birthday and one day before Katherine Pully's 4th birthday.
Production for this video took place in February 1996.
Dubs
In the Spanish version of this video, the Season 4 version of "I Love You" was used.
In the German version of this video, the entire version of the "Barney Theme Song" is not used.