This article is about the video. You may be looking for the stage show that promoted the video.
Barney's Beach Party is a Barney Home Video that was released on April 30, 2002.
Plot
On a rainy day outside, the kids are bummed out and they wish they could be in a place that's more sunny. With a little imagination, Barney takes the kids to the beach where they have enjoy summer fun!
Cast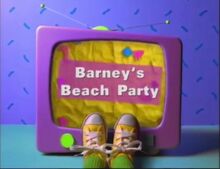 Songs
Barney's Hula Dance (Reprise)
Production
Writing
Hawaii's culture and natural beauty were the inspirations when scriptwriter Stephen White wrote the video while in the state visiting his parents Donald and Johanne, retirees originally from Indiana.[1]
Production for this video took place in between Late 1999 and Early 2000.
Marketing
Stage show
Main Article: Barney's Beach Party (Stage Show)
Barney's Beach Party is a stage show that was originally performed in Hawaii from April 26, 2002 to April 28, 2002. It was to promote the home video of Barney's Beach Party.
Release
Between April 26-28, 2002, the video was shown on the 30-foot Sunset on the Beach screen in Waikiki. This presentation was followed by a 20-minute sing-along with Barney, Baby Bop, and BJ performing songs from the video, as well as an encore performance of "Wipe Out".
Home media
Gallery
Releases
Promotion
Stills
Trivia
This video marked:


The one of the first videos to be closed captioned by Caption Technologies, Inc.
The first video and DVD produced by "HIT Entertainment".
The only appearances of Kalea and Leilani.
Another time something happens to the Barney doll before coming to life. It's when Danny dries off the wetness on Barney with a red/yellow towel.

After the song, "A Silly Hat", Mr. Boyd said to the kids, "And you can all wear hats to the Beach Party tonight." However, when it fades to the Beach Party scene, the kids aren't even seen wearing their hats at the party.
The original 2002 VHS can be seen in the film, "Jersey Girl", as the character Gertie in the film places it on the counter wanting to rent it.
This video was released 10 years after "1-2-3-4-5 Senses!" aired.
Videos
Trailers
Outtakes
References