This video is not to be confused with Barney's Best Manners.
Barney's Best Manners: Your Invitation to Fun! is a Barney Home Video that was released on August 26, 2003.
Plot
When a surprise package arrives from Miss Vera Goode with her new "Vera Goode's Book of Manners for Children", Barney's friends question why minding their manners is so important. Barney explains that his friends have the perfect opportunity to be on their best behavior because they're invited to a party! Then their polite purple pal helps his friends brush up on the rules of etiquette by bringing Mother Goose rhymes to life and taking the children on a magical trip to Alice In Wonderland's "Mad Tea Party." Whether it's sneezing, sharing, cleaning up or using good table manners, Barney helps them discover that using their best manners is fun!
Cast
Songs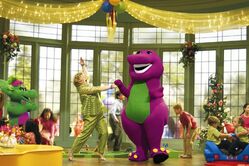 Gallery
Releases
Promotion
Behind the scenes
Trivia
This video marks the only appearance of Miss Vera Goode.
Working Title: "Barney's Perfect Party Manners: Your Invitation to Tea!"
According to Katherine Pully, the production of this video was filmed after Season 8 wrapped up production which means that this video project marks her departure from the TV series along with Selena Gomez and Zachary Soza. Katherine Pully and Zachary Soza would later make guest appearances during Season 10.
This video aired on PBS in 2004.
Production for this video took place in February 2003.