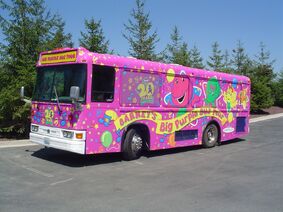 Barney's Big Purple Bus Tour was a tour held in honor of Barney's 20th Anniversary and promote to the home video, Dino-Mite Birthday. It originally toured in North America from September 2007 to March 2008.
Hospital visits
At each three-day stop, Barney along with a local celebrity first visited children at local Children's Miracle Network hospitals where Barney performed a birthday Sing-Along, took pictures and donated toys and DVDs to the hospital. The celebrity also presented Barney with a special gift, and when the tour ended, all the gifts collected throughout were auctioned off with all proceeds benefiting Children's Miracle Network.[1]
Activities
On the second and third day, of each local stop, the children could color birthday cards for Barney, and get a picture with the purple guy himself. In addition to that, at some stops (including the Times Square stop), Barney performed a mini concert. At certain stops, Barney even spoke to guests in real time (via Dean Wendt performing Barney's voice via telephone).
Archive Tour Schedules
February, 2008, Toys R Us, Alpharetta, GA
February 22, 2008, Toys R Us, Orlando, FL
March 29, 2008, Toys R Us, 22035 Hawthorne Blvd., Torrance[2]
March 29, 2008 Toys R Us, 1833 La Cienega Blvd., LA[2]
Gallery
References