Barney's Favorite Memories is a retrospective bonus feature that appeared on the The Best of Barney DVD. Barney shows the viewers his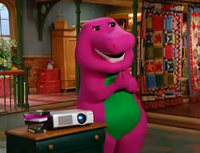 "home movies", and tells them about the fun times that he had over the years.
Sections
Barney & the Backyard Gang
Clips from Three Wishes and A Day at the Beach play (revealing the blue screen technique used in the early videos), while Barney talks about The Backyard Show they put on for Amy and Michael's Dad. He briefly talks about Baby Bop's debut in his first live show, Barney in Concert (which he refers to as "Barney Live"), as well.
Barney & Friends (First Generation)
Barney recalls his friends and fun memories from the first three seasons of Barney & Friends.
Shopping Mall Tour (mini section)
Barney quickly mentions the 2000 shopping mall tour Barney's Open House.
Hot Air Balloons and visits from Stella (mini section)
Barney talks about Stella and the time when he flew in a hot air balloon (in the episode Easy, Breezy Day!).
Barney & Friends (Second Generation)
Barney remembers how he and his friends found the treehouse and Scooter McNutty and Miss Etta Kette.
Universal Projects
Barney describes A Day in the Park with Barney, as well as Barney's Great Adventure (which is currently distributed by Universal).
Barney & Friends (Third & Fourth Generation)
Barney mentions the park set and Riff.
Tours and Special Friends
In a special clip segment, Barney talks about how he likes to travel and that he always takes time to see his friends in hospitals.
Around the World
Clips of Barney in different countries around the world are shown, as he describes each one.
Community content is available under
CC-BY-SA
unless otherwise noted.