Barney's Favorites, Volume 1 is the debut album of Barney. It was released on August 31, 1993 on CD and cassette by SBK Records. The album features a compilation of songs from the first and second season of the TV show and was the first entry in the Barney's Favorites line.
In the same year as the album was released, it became the fastest-selling children's album ever released,[1] hitting double platinum within four months of the album commercially entering at number nine on the Billboard 200.[2][3] On April 13, 1996, the album peaked at number thirty-four on Billboard's Catalog albums.[4] On March 22, 1997, the album commercially went on to peak at number one on Billboard's Top Kid's Albums, the same date that Run, Jump, Skip and Sing peaked at number three on the same chart.[5]
On March 13, 1998, the album went triple platinum (selling over three million units), making it the most successful Barney album to date.[6]
The album received a nomination for Best Musical Album for Children at the 36th Annual Grammy Awards in 1994, in which the award would go to the album producer, Bob Singleton.[7]
Following the release of Barney's Favorites, Volume 1 a sequel was released the following year. In 1997 a spanish equivalent, titled Las Canciones de Barney, was released, and a german equivalent, titled Barney's Lieblingslieder was released in 1998.
Critical reception
Professional ratings
Review scores
Source
Rating
allmusic
4.5/5 stars
At AllMusic, Stephen Thomas Erlewine rated the album four and a half stars out of five, saying that both volumes in Barney's Favorites are much like the television series is "cute and sweet". He stated that the album "provides hours of listening enjoyment for small children, although parents might find it a little tiring."[8]
Track listing
Personnel
Credits for Barney's Favorites, Volume 1 adapted from AllMusic[9] and the CD pamphlet.
Managerial and creative

Vocals

Musicians

Production

Allen LeWinter — production consultant, producer
Bob Singleton - arranger
Fletch Wiley - arranger

Visuals and imagery

Henry Marquez – art direction
Karen McDonald - art direction, album designer
Jennifer Pickett - album designer

Technical

David Boothe - engineer, mixing, mixing engineer
Mike Pietzch - engineer
Charts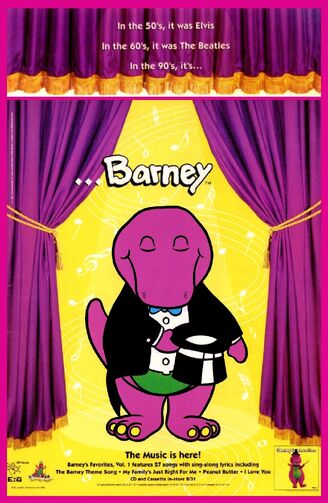 | Chart (1993-1997) | Peak Position |
| --- | --- |
| US Billboard Catalog albums | 34 |
| US Billboard Top Kid albums | 1 |
| US Billboard 200 | 9 |
| (UK) Woolworths | 1[10] |
Certifications
| Region | Certification | Certified units/sales |
| --- | --- | --- |
| United States (RIAA) | 3× Platinum | 3,000,000 |
Release history
| Region | Date | Format | Label |
| --- | --- | --- | --- |
| Various | August 31, 1993 | Cassette • CD | SBK |
| United Kingdom | 1996 | Cassette | PolyGram |
| Various | Summer 2018 | digital download | Universal |
Trivia
This album went triple platinum on the same date its sequel went platinum.
The National Association of Recording Merchandisers (NARM) named it the best selling children's album of 1993-1994.
See Also
References