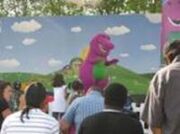 Barney's Purple Park Tour is a touring show that was originally performed at many parks in the United States from 2002 until 2003 as a way to promote Season 7.
While not using the original title, the audio for this show is still used for Treehouse Live at Ontario Place or at various Canadian locations. Additionally, it is still used at Butlins resorts for some of Barney's appearances.
Songs
Original Version:
Barney Solo:
Barney & BJ Version:
Trivia
There are three versions of this tour: The first one with Barney, Baby Bop, and BJ, the other version of this with just Barney, and another with just Barney and BJ.
A promotional commercial for this tour appeared on "Treehouse TV".