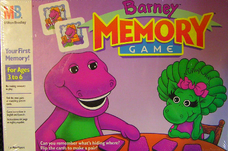 Barney Memory Game is a Barney Game that was released in1993 by Milton Bradley.
Gameplay
This game is designed to teach and encourage memory skills to young children. Players try to make pairs of the 72 cards that feature pictures of Barney and Baby Bop.
When all the pairs have been matched, the players count up their score. The player with the most pairs of cards wins the game.
Gallery
Box Art/Game Board