Barney Rocks! is the eleventh US studio album from Barney, released on CD and cassette on August 15, 2000 under the music division of Lyrick Studios, making it the final album to be released under the studio. It was soon re-released by Koch Records and HIT Entertainment in 2003 along with previous Barney albums.[3]
On April 10, 2020, the album was transferred to Warner Music Group's Arts Music division, along with other Barney albums, as Mattel entered into an exclusive, multi-year global music licensing agreement between the company, announced on May 1, 2020.[4]
The album was released the same day as Come on Over to Barney's House, while also being inspired from the video, and it was the only studio album to have Barney voiced by Duncan Brannan.
The album sticks with the theme of pop/rock and having a musical styling of that genre but aged appropriate for children.
Following the release of Barney Rocks!, a Spanish language version, Barney Rocks! (En Español!), was released on March 2, 2001. Inspired by the album, a stage show was performed in Mexico from 2010-2011 titled Barney Rocks! El Concierto en Vivo! taking songs from the album and other Barney media.
Release and promotion
In support of the album, alongside the VHS & DVD of Come On Over to Barney's House and the Barney for Baby clothing line, Lyrick kicked off an eight market mall tour dubbed Barney's Open House, which was co-sponsored by Betters Homes and Gardens. The tour marked the first public mall tour of Barney since 1992.[5]
Critical reception
Professional ratings
Review scores
Source
Rating
allmusic
3/5 stars
At AllMusic, MacKenzie Wilson rated the album 3 stars out of 5, saying that "Barney Rocks!" is "energetic, danceable children's tunes".[6]
Track listing
No.
Title
Writer(s)
Length
1.
"That's How You Make Rock-N-Roll"
Timothy Clott
2:30
2.
"Rock-N-Roll Star"
Joseph Phillips
2:51
3.
"Blue Jay Blues"
Phillips
1:58
4.
"It's a Fun, Fun, Sunny Day!"
Phillips • Tony Peugh
1:31
5.
"Walk Around the Block"
Angelo Natalie
2:16
6.
"Imagine a Place"
Phillips • Peugh
1:33
7.
"I Just Can't Wait"
Phillips • Peugh
1:32
8.
"Anything Can Happen"
Phillips
1:55
9.
"Colors All Around"
Jim Rule
1:51
10.
"I'd Love to Sail"
Willy Welch
1:29
11.
"By Myself"
Holly Doubet
1:29
12.
"Barney's Rockin' Nursery Rhyme Medley ("Mary Had a Little Lamb"/"Hickory Dickory Dock"/"Pat-A-Cake"/"Jack and Jill"/"This Little Piggy")"
Traditional
4:36
13.
"Pretty Kitty Blues"
Bob Singleton • Philip Parker
1:49
14.
"I Put a Smile On"
Welch
1:24
15.
"Surfin' On the World Wide Web"
Bob Singleton • Philip Parker
2:04
16.
"Squishy, Squashy, Washy"
Natalie
1:23
17.
"Have a Snack!"
Stephen Bates Baltes • Lory Lazarus
1:32
18.
"Snackin' On Healthy Food"
Parker • Lawrence I. Haron
1:06
19.
"Pumpernickel"
Baltes • Lazarus
1:34
20.
"Sour Pickle Face"
Clott
1:34
21.
"Icky, Squishy, Gooey, Ooey!"
Eddie Coker
1:37
22.
"Count the Stars"
Phillips • C. Russell Riddle • Joyce D. Slocum
2:18
23.
"Mr. Star"
Natalie
1:37
24.
"Trying On Dreams"
Phillips • Riddle • Slocum
2:02
25.
"I'm Glad I Have a Brother"
Baltes • Lazarus
1:41
26.
"Look at Me, I'm Dancing"
Welch
1:37
27.
"The Gaggle, Giggle, Wiggle Dance"
Coker
1:47
28.
"The Dino Dance"
Phillips
2:38
29.
"Someone to Love You Forever"
Baltes • Lazarus
1:54
30.
"I Love You"
Traditional • Lee Bernstein
1:04
31.
"That's How You Make Rock-N-Roll" (Reprise)
Clott
1:53
Total length:
58:21
Personnel
Credits for Barney Rocks! adapted from AllMusic.
Managerial and creative

Vocals

Production

Visuals and imagery

Mark Murphy - package designer
Release history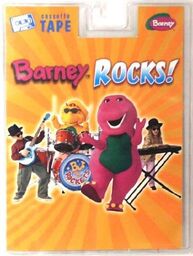 Region
Date
Format
Label
Various
August 15, 2000
Cassette • CD
Lyrick
2003
HIT • Koch
January 11, 2005
CD
November 30, 2011[7]
digital download
HIT
April 10, 2020[8]
digital download • streaming
Arts • Mattel
Trivia
Videos
Promo
See Also
References