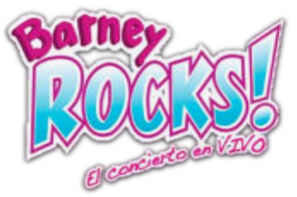 Barney Rocks! - El Concierto en Vivo! (Barney Rocks! Live in Concert) is a stage show that was performed in Mexico from 2010 until 2011. The show's title and premise are inspired by the album, Barney Rocks!, which had been released in 2001 in Latin America. In addition, many of the songs in the show are taken from the album as well as other Barney media. It was the fifth original live tour production based on Barney & Friends to be based outside the US.
Plot
Barney and his friends form their own band and perform their favorite songs for the audience, giving a new rock twist to old Barney favorites.
Characters
Barney (Voice: Rubén Cerda; Costume: ???)
Baby Bop (Voice: Elsa Covian; Costume: ???)
BJ (Voice: Lobegami Santini; Costume: ???)
Riff (Voice: Claudia Bramnfsette; Costume: ???)
Ensemble: Dani, Rebecca, Chris, Ricardo
Polar Bear
Ginger the Dog
Monkey
Penguin
Starfish
Songs
NOTE: The list below is incomplete & based on songs revealed in the show's promotional video as well as videos taken by show patrons.
Gallery
Trivia
Video