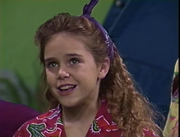 Becky Elizabeth Swonke is an American actress. She was born on June 28, 1980 in Houston, Texas. She is best known for her role as Amy, the younger sister of Michael, in the Barney & The Backyard Gang videos.
She did not appear on the Barney & Friends television series, due to an illness she had. Becky has since recovered and now runs a non-profit organization called Ropin' Hope Rehabilitation.
Trivia
Swonke shares a birthday with another Barney actress, Lauren King, the actress who played Kathy. Becky is five years older than Lauren.