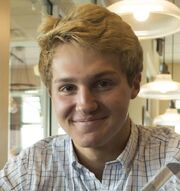 Ben Lux (born June 9, 2000[1] in Denton, Texas) is an American actor. Lux portrayed the role of Rusty in Season 13 of Barney & Friends[2] Lux is the brother of Austin Lux who portrayed the role of Ben on Season 13 of the series as well.
Life and Career
Acting
Outside of starring in Barney & Friends, Lux has starred in other films such as The Lamp (2011), The Beacon (2009), and Living Proof (2008).[3] Lux has also been in commercials for as Heelys and Leap Frog.
Outside of Acting
Lux was a member of the international debate team for America, where he ranked 8th place in the world. He has competed nationally in Parliamentary debate for over 5 years, where he and his partner ranked first place in the nation, placing second at NITOC. He competed in Team Policy Debate for several years and crossed over to Lincoln Douglas debate this past year, where he ranked 10th at Nationals. He is a proud board member of a charity for the arts. Lux loves to help others and teach people about the art of communication, all while "periodically" making jokes about chemistry.[4]
References