Blarney - It Ain't No Picnic
is a video that was released in 1994. It spoofs both
Barney & Friends
 and the
Backyard Gang
videos. A lot of the content in the video is aimed at a mature audience.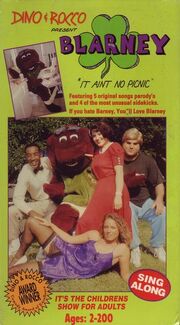 Plot
Blarney the Dinosaur, Barney's evil twin brother, gets turned down for a Stephen Speilberg movie (it is assumed to be Jurrassic Park, which came out a year earlier) in place of his kinder brother. He then joins the "Backdoor Gang" for a barbeque. The "kids" (played by adults) sing songs with Blarney and have fun at their barbeque. In the end, it turns out to be a nightmare that Blarney had.
Songs
The names of these are similar to the original songs, but are spoofs. In addition, the names that aren't identical are custom.
Blarney Theme Song
A parody of the "Barney Theme Song" which mentions the title character is a "homophobe, sexist, and a racist," in addition to the fact he "farts in lugers, eats his boogers" and that "all the parents hate him." It also mentions that the "Backdoor Gang" come from every nation and that they're "just short of retardation."
A Bloody Brown Booger for Blarney
This song spoofs "Peanut Butter" (or more specifically, "Frosting the Cake") and explains how to pick your nose and get rid of your boogers.
Me and My Teddy
A parody of the song of the same name. In this case, however, "teddy" refers to a piece of lingerie. This song takes place in a fantasy that Blarney has (taking the whole "teddy" thing out of the original context (teddy bear).
Down by the Bay
A spoof of the popular children's song of the same name. This version refers to weird sex acts in "West Hollywood" (i.e. "Did you ever see a lass with a gerbil in his ass?").
Pick My Nose While Drivin'
This song (which is sung out of tune) is a parody of "Apples and Bananas", while referring to generally disgusting habits (including passing gas under the sheets and belching in the Key of D).
Trivia
The video has very low production values, looking as if it were filmed entirely with a Super-8 camera.
All of the songs that are parodied in this video can be found in Rock with Barney and Barney's Birthday; so, the producers of this parody may have screened those two videos for reference.
In the credits, Blarney is credited as just "himself." Thus, it's unknown who actually played him.
Community content is available under
CC-BY-SA
unless otherwise noted.