Robert Matthew "Bob" West (born June 25, 1956 in Finleyville, Pennsylvania) is an American voice actor and graphic designer, who is best known as the original voice of Barney from 1988-2000 in the PBS children's television series, Barney & Friends, and he was later succeeded by many others in the role of the voice. Bob West, a native of Pennsylvania and he grew up in Baytown, Texas, is also known for voicing Pasqually and Jasper for Chuck E. Cheese, which he both voices them in 1986 until 1998.
Early Life
Education
Bob West went to Ross S. Sterling High School and studied art at Trinity University. After 3 years of study under Robert Tiemann, Robert West graduated from Trinity in 1978, then stayed for an additional year of post-graduate studies.[1]
During Bob West's time at Trinity University, he was a part of "The Serenaders", a group that sang under the windows of the girls' dorms at Trinity University, and he eventually became a bit of an institution on campus.[2]
Career
Bob West's first gig (not counting the singing telegram work) was serving as art director and camera operator for a commercial production company while simultaneously launching a parallel career in voice over. In 1995, he began providing web design services, building sites for clients in a variety of industries, including film and entertainment professionals and artists.[3]
Barney & Friends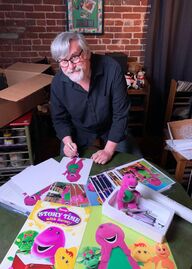 Bob West auditioned for Barney back in 1987. As he recalls, "I didn't get the description until a few minutes before the first audition (and no drawings?), so I had to pretty much create it on the spot, which is common [for voice actors]. There was at least one callback audition, I think and the voice was adjusted a bit, as it was before and during early production. At the time, they were also considering using one person for both body and voice, but I was too tall for the costume they'd already started making." Since then, Bob West's voice for Barney has changed over the years. Bob West's voice was not only used in the Barney & The Backyard Gang videos and on the Barney & Friends television show, but also on a 70 market radio show, on Multi-Platinum and Multi-Gold albums, for a feature film, for CBS and NBC primetime specials, as a Daytime Emmy presenter, for toys, for educational games, and for live tours and "personal appearances." In addition, he provided Barney's voice for interviews on The Today Show, Live With Regis & Kathy Lee, Oprah, The Phil Donahue Show, John & Leeza, Marilu, and appearances around the world.[4] In 2000,  Bob West retired from doing the voice of Barney and he was succeeded by Duncan Brannan, Tim Dever, and later, Dean Wendt.
After Barney & Friends
Bob West would later become a graphic designer for the shows, "Speechless" and "The Muppets", which both aired on ABC.
Achievements
Honors and accomplishments include various voice over awards; being asked by Congress to testify on the issue of email spam and the unauthorized sharing of personal information; selection for archiving by the Library of Congress of a self-produced, 9-11-related website; and setting an unofficial world altitude record for bungy jumping from a helicopter.[3]
Personal Life
Bob West currently resides in Los Angeles, California.[1]
Barney Projects
Filmography
Commercials and Ads
Pepsi - Narrator
Bud Light - Various voices (English and Spanish)
Coors Light
Frito-Lay - Narrator
KFC - Narrator
Armour Meats
Circuit City
Texas Monthly Magazine
Texas Lottery - Narrator
Production staff
Year
Title
Position
Notes
1997
Still Breathing
Art director
1999
Thick as Thieves
Graphic designer
Uncredited
2000
Picking Up the Pieces
Uncredited
2000
Thirteen Days
Uncredited
2001
Jurassic Park III
Uncredited
2003
Down with Love
Uncredited
2003
The Italian Job
Uncredited
2004
Anchorman: The Legend of Ron Burgundy
Uncredited
2005
Be Cool
Uncredited
2005
Herbie Fully Loaded
Uncredited
2005
House of the Dead 2
Uncredited
2006
10 Items or Less
Uncredited
2006
Schools for Scoundrels
Uncredited
2007
October Road
Episode: "Pilot"; uncredited
2007
Hustle
2 episodes; uncredited
2009
Black Dynamite
Uncredited
2009–2015
Community
34 episodes
2009
The Proposal
Uncredited
2011
Hop
Uncredited
2012
90210
2 episodes; uncredited
2013
Anatomy of Violence
Uncredited
2014
Chef
Uncredited
2014–2015
Castle
4 episodes
2015–2016
The Muppets
8 episodes
2016
The Sweet Life
2016
Aztec Warrior
2016–2019
Speechless
62 episodes
2017
Wish Upon
2017
Raised by Wolves
TV movie
2017–2018
The Mick
20 episodes
2018
Three Rivers
TV movie
2018–2020
Single Parents
18 episodes
2020
9-1-1: Lone Star
Episode: "Yee-Haw"
Swimming with Sharks[5][3]
1 episode
Trivia
Videos
Interviews
References