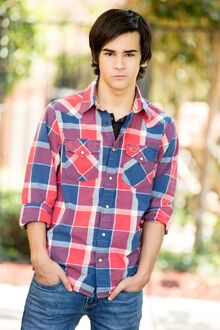 Bryce Cass (born November 21, 1997) is an American actor. He is best known for Battle Los Angeles, The Guardian, and Line of Duty.[1] Bryce landed his first TV gig as a guest appearance as "Joey" and "Ramon" on the popular PBS children's series, Barney & Friends. Bryce worked steadily in the Dallas area while continuing to study acting, going to school, and playing sports.[2]
Biography
Career and Personal Life
Bryce booked his first feature film, "The Guardian" at age 7.  With a movie role under his belt and encouragement from his acting coach, Bryce made the trip to Los Angeles for his first pilot season.  Within a few days of arriving in Hollywood, Bryce landed a guest-star role alongside John Stamos on NBC's hit show, "E.R.".  Soon after, Bryce won a role as one of the "classmates" on the FOX hit primetime game show, "Are You Smarter than a 5th Grader?" with host Jeff Foxworthy.  
Continuing to develop and demonstrate his range as an actor, in Bryce's latest project he recently portrayed a teen gang member in the indie film "Line of Duty" which was released earlier this year.  

Bryce continues to spend his time going back and forth, dividing his time between his home in Texas and Hollywood.  When he's not busy working on tv or film, Bryce enjoys hanging out with his two brothers, playing football, baseball, basketball, and Xbox.[2]
References
External Links