"Bunches of Boxes" is the fifth episode from the seventh season of Barney & Friends.
Plot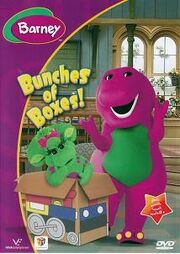 When the Enjoy-Your-Toys Company delivers a bunch of boxes, Barney's friends are excited. Expecting new toys, they're surprised to find empty boxes. With a little encouragement from Barney and a lot of imagination, Scott turns a shoebox into a turtle, and Kami finds the time to turn a box into a grandfather clock. Whitney and Mario set sail in their cardboard ship, and Scott and Kami go for a drive in their "box cars." When Kami and Mario build a royal fairy tale castle, the stage is set for fairy tale time with Barney. Then, a packing box becomes home to a pachyderm as the kids join BJ for some circus fun. Finally, Barney's marching band parade makes beautiful music from a bunch of boxes. Children will use their imaginations as they are engaged in crafts, games and fantasy play, and they'll love singing fun songs like "The Little Turtle" and "The Elephant Song".
Stories: The Lonely Princess
Ending Intervals: Reach the Sky and Share a Hug
Song List
Trivia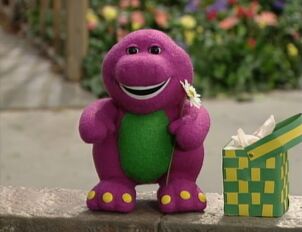 After not being used for 7 years, the song, "Buckle Up My Seatbelt" returns in this episode, since "Are We There Yet?".
Baby Bop is mentioned in this episode.
This episode marks the first appearance of the new and current Barney doll.