Someday, you'll choose a job too, and I hope it makes you happy.

— Barney
"Careers" is the second part of the nineteenth episode from the tenth season of Barney & Friends.
Plot
The episode begins with Claire, Samantha, and Joey playing a game of hide-and-go-seek with Barney. Mel the Mailman and Baby Bop arrive shortly afterwards, and he comments on how her tricycle reminds him of when he was young. Hearing this, Baby Bop decides that she would like to be three forever.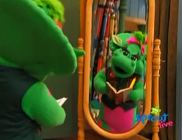 After the children explain that she cannot stay the same age forever and Barney tells her she will not be able to get a job, Baby Bop inquires as to what a job really is. Barney proceeds to explain that jobs often help people, such as in the case of teachers and doctors. Baby Bop starts to get excited about the prospect of one day building a house or teaching ballet, so she tries on various outfits to spark her imagination.
To conclude, Barney takes Baby Bop back out to the Park so see the various jobs in action. It is then that she concludes that she won't be three forever, but would like to enjoy her tricycle until at least her next birthday.
Songs
Trivia
This episode marked the only appearance of Joey.
Community content is available under
CC-BY-SA
unless otherwise noted.