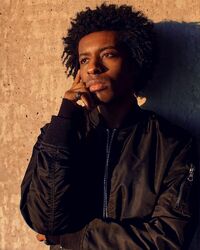 Daven Wilson (born August 14, 1994[1] in Dallas, Texas) is an actor who has portrayed the character Jackson in Barney & Friends from early 2002 to late 2005. He is also known for playing Trey in Merry Christmas, Drake & Josh.
Career
He began acting at age 4 earning his first credit in a national commercial. He'd later play Jackson in a few seasons of Barney & Friends.
Actor best known for playing Jackson in the long-running children's series Barney & Friends. He is also a talented singer and gained attention for releasing his debut single "It's Daven." He has a self-titled YouTube channel where he's posted covers of popular songs by rappers like Drake and Tyga.
He appeared as Fleck in the episode "iQuit iCarly" on iCarly and in the Nickelodeon film, Merry Christmas, Drake & Josh where Camille and Cosette Goldstein appeared.
Personal Life
He has a sister and is from Dallas, Texas.
Trivia
Wilson has performed music at venues like the House of Blues and the Hard Rock Cafe.
Gallery
References
External links