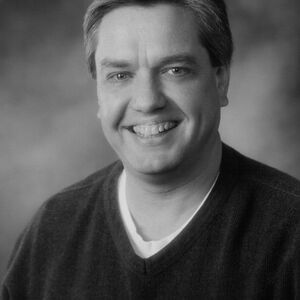 David Timothy Franks (born September 8, 1962) is a freelance producer, editor, and director. He was one of the back-up voices for Barney.
Early Life
David Franks graduated from Baylor University in 1985 with a Bachelor of Arts degree. He worked for several years on the campus radio station. He also worked on a local radio station as a DJ. I have taken voiceover classes. I have studied voice and have sung all my life with various choral groups. I have worked in the video industry for over 24 years as a Producer, Director, and Videotape Editor. I understand what is needed from a voice talent from the Producer's point of view.
Career
Barney the Dinosaur
David Franks worked doing voiceover work for over 22 years. He started doing the voice of "Barney" on tour in 1996 for Lyrick Studios. During that time his voice appeared on "Entertainment Tonight", "Fox News", "Good Morning America" and "Regis and Kathy Lee" and numerous television and radio stations across the country.[1] Franks would stop doing the voice for Barney when Barney's Big Surprise tour ended. He continued with the franchise as a technical director until 2009.[2]
Wheel of Fortune
David Franks appeared on Wheel of Fortune on February 1st, 2018. He showed off his Barney voice quoting, "Wheel of Fortune is Super Dee Duper!". Pat Sajak gave a little humor from the Million Dollar Dollar Wedge to throwing a bunch of anti jokes here and there. He would end up making it to the final round where he wouldn't solve the final puzzle.
Videos
Trivia
References