David Eugene Joyner (born on July 4, 1963 in Decatur, Illinois) is an American actor. He is best known to have portrayed as the costume of Barney, first starting in 1991 in Barney & The Backyard Gang. Then, he continued on in 1992 and he performed as the original costume performer of Barney on Barney & Friends, until 2001. After his time on the series, he would later continue to do occasional appearances as Barney until 2005.[2] He would later go on to portray as the titular character Hip Hop Harry during the television series and after the show ended.
Career
Barney
Barney & The Backyard Gang
While working at Texas Instruments, Joyner began teaching in an acting school for children in Dallas. Shirley Abrams, a local casting director, had asked him to be in "World's Most Wanted," playing a drug dealer. The criminal the character was based on was caught and, despite being picked for the role, the episode was never filmed.
On September 21, 1990, a fax comes in from Abrams asking for a performer to play Barney. David Voss, Barney's original costume actor, had left to join the military and the company was looking to film two more Barney & the Backyard Gang videos. Joyner was unsure about being in a costume, having no prior experience in the field. In a phone call, Abrams said he was perfect, as he worked well with kids and was energetic. Abrams sent him the first six videos of the Barney & the Backyard Gang series and Joyner would fall asleep no matter how hard he tried to view them.
Audition
The night before the audition, Joyner had a dream that Barney passed out and that he (Joyner) gave the purple dinosaur mouth-to-mouth CPR. While driving to the audition, he noticed a bilboard that said "Breathe Life Into Your Vacation," which made him think about breathing life into Barney and he decided to be as energetic and animated as possible.[3]
After five auditions, Joyner was passed over for a woman. She ended up not being able to handle the kids, so Abrams called him and asked if he would still be interested in playing Barney. Joyner, excited inside, calmly accepted the role.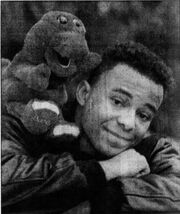 Barney & Friends
After Barney & the Backyard Gang ended, the video series was spun into a television series titled Barney & Friends. Joyner continued to portray as Barney's costume performer until 2001.
In April 2001, Joyner left the television show, which is taped in Dallas, Texas, and moved to Los Angeles to continue pursuing his acting career outside the costume. When Joyner moved to LA, he offered to help out with Barney if it was ever needed though once he joined the Screen Actors Guild, he could no longer portray Barney on Barney & Friends due to it being a non-union job.[4] After moving to LA, the Barney Special Events Dept came calling offering him the opportunity to continue traveling around the US making Barney appearances, and training new Barney's in other countries. All the while, allowing him to continue an acting career in LA as himself. Joyner continued as Barney's costume performer until 2005.
Post-Barney
While pursuing his acting career outside of Barney, Joyner was asked to not put Barney on his resume. He did so to also be taken seriously as an actor. While originally keeping Barney as a secret,[4] Joyner has done multiple interviews discussing his time on and as Barney after he retired from the franchise.
Personal Life
Barney
Joyner had a white stucco home in Plano, Texas and paid for the house with residuals from Barney.[5] Joyner referred to the house as "The house that Barney built".[6]
Performances
Barney
Barney the Dinosaur
Gallery
Barney
Behind the scenes
Trivia
Desiring to connect to kids on a spiritual level, before Joyner would get into the Barney costume, he would pray to God to work in him and Barney together so the loving energy draws in Barney's target audience.[7]
Joyner shares a birthday with DeWayne Hambrick, the actor who played "Old King Cole". Joyner is three years older than Hambrick.
At one point, Joyner had to get surgery on his wrist because he kept signing so many autographs for children as Barney.[4]
Barney's Great Adventure
Child actors
Prior to becoming one of Barney's costume performers, Joyner was the acting coach to Rickey Carter, who portrayed "Derek".
Joyner was Danielle Vega's acting coach prior to Vega being on Barney & Friends portraying as "Kim".
Joyner was a scene partner with American singer, actress, and businesswoman Jessica Simpson when she was a child enrolled in a course taught by American martial artist and actor Chuck Norris.[8]
Videos
Interviews
References