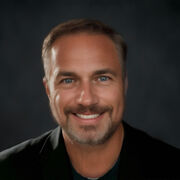 Dean Wendt is an American voice actor, host and DJ. He was born on February 17, 1968 in Elgin, Illinois.
Biography
Wendt was a co founder/creator and disc jockey on Radio Disney from 1994-1999, but left the company in order to dedicate his time to voiceovers. Dean started officially voicing Barney the Dinosaur in September of 2002, and his first season was season seven in 2002.
In contrast to the previous voice actors, Dean gives Barney a more nasally tone in his voice, making him sound "squeakier". His voice was rather high-pitched in Season 7, sounding similar to other Barney voice actors at the time (Duncan Brannan and Tim Dever), but his voice got deeper as the series went on, making it more of a cheerful extension on his own natural voice, as it was easier for him to maintain.
Trivia
Although he is best known for Barney's current voice, Dean Wendt also does many other voices for commercials.
Before officially becoming the voice of Barney, Dean voiced Barney for the We Are Family music video, as well as Barney's appearance in the 2001 Macy's Thanksgiving Day Parade.
To date, Dean Wendt is the longest lasting voice actor for Barney (voicing the character for 14 years). Despite the show's hiatus in 2009, Dean did voice Barney for the 25 Million Hugs Campaign, as well as Barney's appearance at CPTV's 50th Anniversary Special, the app Learn English with Barney, and the new version of the Barney website. Dean reprised his role as the voice of Barney at the CPTV Jerry Franklin retirement gala on May 1st 2019.
He is the second voice actor for Barney, where his first name starts with a "D", first being Duncan Brannan.
External Links
Dean Wendt's Interview - http://www.blogtalkradio.com/cloverleafradio/2015/03/04/cloverleaf-radio-presents-barney-the-dinosaur-dean-wendt-interview