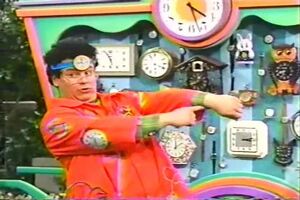 Dr. TickTock is a character who only appeared in the Season 4 episode Tick Tock Clocks!. He was played by Ted Davey.
Trivia
Dr. TickTock can make, or fix many different kinds of clocks, and just about any kind of clock anyone can think of.
He was mentioned in More Barney Songs when BJ remembers that He and Dr. TickTock made a watch for Baby Bop, and Barney remembers that BJ gave the watch to Baby Bop on the day she learn the numbers on a clock. A reference from the Season 4 episode, Tick Tock Clocks was used for the episode.