Feliz Navidad con Amor Barney (also released as Alegre Navidad con Barney in 2000 and 2010) is a spanish holiday album that was released in 1999 through Tycoon Music. It was later re-released by HIT Entertainment and Universal.
Feliz Navidad con Amor Barney is the second holiday themed album released by the purple dinosaur after Happy Holidays Love, Barney but the first Spanish Christmas album.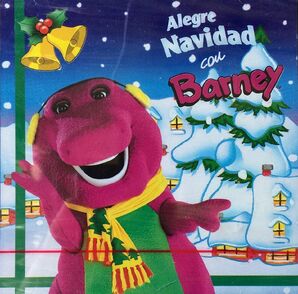 Track listing
Arre Borriquito

Danza del Hada de Azucar

(instrumental)
Popurri Las Posadas [La Piñata Tiene Fruta, Dale Dale Dale, Andale Barney, Naranjas y Limas] (Posadas Medley)
Alegria al Mundo (instrumental)

La Marimorena

Noche de Paz

(Silent Night) (instrumental)
Personnel
Credits for Feliz Navidad con Amor Barney adapted from the CD pamphlet.
Vocals

Production

Joseph Phillips - arranger, producer
Charles King — music administrator & researcher
Jonathan Smith - music administrator & researcher
Release history
Region
Date
Format
Label
Mexico
1999
CD
Tycoon
2000
Lyrick • Tycoon
Argentina
2004
HIT • Universal
Mexico
2010
HIT • Tycoon
Trivia
References