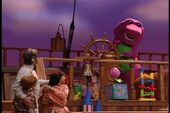 Just imagine, just imagine...

This article is a disambiguation page for Grandparents are Grand
The following is a list of links to pages that might share the same title.
Please follow one of the disambiguation links below or search to find the page you were looking for if it is not listed. If an internal link led you here, you may wish to change the link to point directly to the intended article.
Grandparents are Grand is the name of two episodes of the Barney & Friends series in Seasons 2 and 6 respectively. Although they are from different seasons, some plot points are exactly the same as each other (and even some songs are in both).
Episodes
Grandparents Are Grand! (1993) - Derek's Granddad Richards and Kathy's nanna come for a visit and the kids show Granddad the classroom. Tina misses her abuelo in the end.
Grandparents Are Grand! (1999) - Kim's Meemaw and Pop-Pop are coming to the school and she wants to surprise them. Meanwhile, Jeff misses his Filipino grandparents (Lola and Lolo).
Community content is available under
CC-BY-SA
unless otherwise noted.