HIT Entertainment (styled "HiT" and or known as HIT Entertainment Limited through copyright and trademark) was a British-American entertainment company that produced children's entertainment. The company distributed content for the home entertainment market and licensed its characters for use in books and other consumer products.[9]
Founded as the as the international distribution arm of Jim Henson Productions,[10] originally called Henson International Television in 1982 by Jim Henson and then its then CEO Peter Orton,[11] the company was renamed and rebranded to HIT Entertainment in 1989, with the shift focus on children's programming.
During its existence, the company was recognized as one of the world's leading children's entertainment companies.[12] In 2011, the company was acquired by Mattel.[13] Since the studios absorption into the company, Mattel has produced new programming, material and products based on some of the properties that HIT Entertainment owned, with their logo still occasionally appearing in merchandise and the company now being a brand.
History
Henson International Television (1982-1989)
Peter Orton was handling the international sales for Sesame Street. As a result, he became close friends with Jim Henson and went to work with him in 1981.[14] Together, they set up Henson International Television, which was the international distribution arm of Jim Henson Productions, in the following year of 1982. Orton became CEO of the company.
When Disney began talks to acquire The Jim Henson Company in the late 1980s, Orton and other employees at Henson International Television convinced Jim Henson to allow them to spin off the distribution arm as an independent distribution company. Henson agreed, and Orton persuaded his coworkers in Henson International Television 'to hold hands and jump off the cliff,' as Orton told the Independent. Taking the initials from the division's former name, Orton established HIT Entertainment, based in London[10] alongside co-founder Sophie Turner Laing.
Programming distribution (1990s)
HIT's business initially remained limited to distributing character properties. Among the company's early products were popular British series Postman Pat and the long-running Alvin & the Chipmunks series. Other popular programs financed and distributed by HIT Entertainment included animated features based on classic children's books such as Wind in the Willows and the Peter Rabbit books. Helping to fund the company was an investment by British satellite and cable TV operator Flextech made in 1990, which bought 23 percent of HIT for approximately £600,000.
In the early 1990s, HIT began to branch out into programming production, notably with the formation of a new division, HIT Wildlife, in 1993. The new division began producing wildlife and nature-oriented programming. HIT Wildlife rose to become one of the company's chief revenue generators, claiming as much as 35 percent of the company's sales by the mid-1990s. As Orton pointed out to Kids TV, 'With wildlife [series], you can dub them and they carry no cultural baggage. Usually, if a drama is sold to 15 or 20 markets, that's a lot, but these series can go to many more.'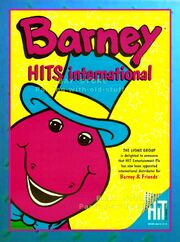 Preschool focus
HIT's foray into nature-oriented programming quickly gave it a taste for production in its other core area, that of children's programs, and particularly programs for the preschool market.[10] Because of the change in the preschool market, thanks to Barney & Friends, it encouraged HIT to begin production of its own stable of characters.[10] HIT had distributed Barney & Friends internationally from 1993 to 1996.[15] Instead of simply distributing characters and their series, HIT now sought to become involved in their development--not only producing television programs, videos, and films, but also in controlling lucrative licensing activities. In order to fund this transition, the company went public, listing its shares on London's AIM market in 1996. The listing gave the company a market capitalization of just £18 million, but enabled it to launch its new HIT Video division, which began production of video programming targeting the company's core preschool audience.[10]
A new character came to the company's attention in 1996, when advertising executive and would-be cartoonist Keith Chapman pitched his idea to HIT Entertainment. Chapman's character was a little builder named Bob the Builder, with such friends as Scoop the Digger, Muck the Bulldozer, and Roley the Steamroller. While a number of other producers had turned down the idea, HIT recognized its potential and bought the rights to developing the Bob the Builder character into a television series. The following year, HIT joined the London Stock Exchange's primary market, boosting its market capitalization to £50 million and raising an additional £8 million through a rights issue. The new funds went toward the production of the company's first three programs: Brambly Hedge, Percy the Park Keeper, and Kipper, a series about a dog that became the company's first hit series.[10]
HIT opened its own animation studies in 1998, dubbed HOT Animation. The company also launched its Consumer Products Division in order to generate revenues through character licensing. By then, the company's Kipper series had proven a hit across the United Kingdom. Initially broadcast on Britain's ITV network, Kipper was brought across the Atlantic, when HIT signed a broadcasting deal for the series with the Nickelodeon television network. That deal was just the first for HIT, as it quickly lined up buyers for a number of its other series in the United States. By the end of 1998, HIT had an impressive customer list, including Starz/Encore, which bought the Brambly Hedge and Percy the Park Keeper series; and HBO Family, which bought HIT's Anthony Ant cartoon series. The company's wildlife programming was also finding success in the United States, with the Animal Planet channel buying the rights to air Wyland's Ocean World. By then, HIT had also found an eager buyer in the BBC for the Bob the Builder program as development of the initial installment of the series, created in the company's HOT Animation studios, neared completion. When Bob the Builder was introduced on television in 1999, it became a hit in the United Kingdom's preschool market, becoming the fastest growing preschool character there.
Expansion (2000s)
HIT, which had long been suggesting that it intended to expand its character stable through acquisitions, nearly found a partner in early 2000, when the company held talks with Britt Allcroft, the British company that held the licenses to such popular characters as Thomas the Tank Engine, Captain Pugwash, and Sooty. The two sides were unable to agree on a price, however, and the merger fell through.[10]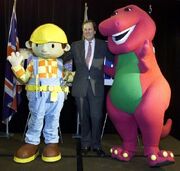 Lyrick Corporation acquisition (2001)
In order to expand the international presence of its characters, such as Kipper the Dog, Angelina Ballerina and Bob the Builder, the company announced in February 2001 that it would acquire Lyrick Coporation for $275 million.[16] Lyrick held the rights to Barney, which was a big property in North America. In turn the deal gave HIT a marketing and distribution network that it used to introduce its properties to US audiences. Vice-versa, the deal would help expand Barney's international presence, which was something that Lyrick needed.[17] Eventual Chief Executive of HIT, Rob Lawes, was the driving force of the acquisition.[15] The Lyrick acquisition put HIT Entertainment on the world map and the company was now interested in pursuing new acquisitions.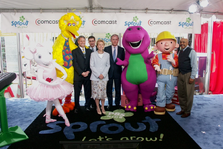 Apax Partners (2005-2011)
Due to the disappointing financial results of the company within the last few months, it led to the decision of HIT agreeing to be purchased from Apax Partners Worldwide, which was a private equity buyout firm,[18] for £489.4 million ($934 million)[19] on March 22, 2005. In the same year, HIT partnered with PBS, Comcast and Sesame Workshop to launch Sprout, a 24-hour preschool channel. The first initial announcement of the channel was overshadowed the previous year, after Rob Lawes was fired from his chief executive position at HIT Entertainment.[20]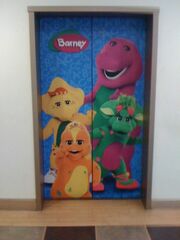 In 2006, HiT closed its DVD sales and distribution arm in the US and contracted with 20th Century Fox Home Entertainment for DVD distribution. Soon, the distribution deal ended and transferred to Lionsgate Home Entertainment who distributed HIT's videos from May 2008-2014.[21][22]
In April 2011, Apax put HiT up for sale, with the option to sell the company in two parts: Thomas & Friends franchise and the other HIT characters with its Kids Sprout stake, with either parts or separately. Several bidders came forward, including The Walt Disney Company, Viacom (now known as Paramount Global), Mattel, Hasbro, Classic Media (now known as DreamWorks Classics), Chorion and Saban Brands.[23]
Mattel acquisition (2011)
Apax Partners agreed to sell HIT Entertainment to Mattel, Inc on October 24, 2011 for $680 million.[24] Its share of Sprout was not included in the deal.[25] The sale/merger was completed on February 1, 2012,[26] and HIT Entertainment became a wholly owned subsidiary of Mattel, managed under its Fisher-Price unit.[27][28] Due to the success of the Thomas brand, which accounted for 80% of HIT's revenues, there was talks of Mattel only wanting to purchase that franchise rather than the entire HIT library.[29] Mattel had already worked alongside Hit Entertainment and handled marketing for Thomas & Friends toys.[30] On July 3, 2012, It was reported that Mattel considered selling and seeked a buyer for the assets of Barney (alongside Angelina Ballerina).[31] They eventually decided to keep those brands.
Announced in May 2014, HIT announced a DVD distribution deal with Universal Pictures Home Entertainment, in which Universal started distributing their catalogue for Blu-ray, DVD, Electronic Sell-Through and VOD platforms in the United States and Canada.[32] On October 6, 2015, HIT Entertainment announced a long-term partnership with 9 Story Media Group to relaunch Barney & Friends and Angelina Ballerina, with revivals announced for 2017.[33] Although the revivals never came into fruition, 9 Story currently owns distribution rights to both properties.
On March 31, 2016, it was announced that Mattel would bring three of their internal content production units: Mattel Playground Productions, HIT Entertainment and the American Girl to form their new division called Mattel Creations, which was later renamed to Mattel Television.[34][35]
Key People
Executive Management
CEOs
Peter Orton - Founder, Chairman, CEO (1982-2005)
Bruce Steinberg CEO (2005-2008)[37]
Jeffrey D. Dunn - Chief Executive Officer (2008-2012)
COO
Sangeeta Desai - Chief Operating Officer (2009-2012)[38]
Vice Presidents
Joseph P. Salvo - Executive Vice President and Global General Counsel
Derek Irwin - Executive Vice President and Chief Financial Officer
Christopher Keenan - VP Creative and Executive Producer (July 2014-)
Senior Management
Vice Presidents
Michael Carrington - VP Global Content & Executive Producer (2013-2014)
Karen Barnes - Executive Vice President, Production & Development (Feb. 2005-Oct. 2012)[42]
Natasha Fishman - Senior Vice President, Global Brand Management & Digital Media
Rick Glankler - Senior Vice President, Global Brand Management – Thomas & Thomas Division, EMEA
Alison Homewood - Executive Vice President Worldwide Programming Distribution
Antonio Huab - Senior Vice President, Asia
Jon Owen - Senior Vice President, HIT Brands - Global
Pamela Westman - Executive Vice President, Thomas Division, The Americas
Sloan Coleman - Senior Vice President, Stage tours/live events
Properties
Owned
| Name | Year Acquired | Notes |
| --- | --- | --- |
| Barney & Friends | 2001 | Held international distribution rights from 1993-1996,[15] previously owned by Lyrick Corporation. |
| Wishbone | 2001 | Previously owned by Lyrick Corporation. |
| Bob the Builder | 1999 | |
| Kipper | 1997 | |
| Angelina Ballerina | 2001 | |
| Thomas & Friends | 2002 | Previously owned by Gullane |
| Rubbadubbers | 2003 | Formerly titled Plugg (1999) and Splish, Splash, Splosh (2000).[43] |
| Pingu | 2001[44] | |
| Rainbow Magic | 2007[45] | Book series |
| Fireman Sam | 2002 | Previously owned by Gullane |
| Mike the Knight | 2011 | |
| Guinness World Records | 2002[46] | Book series previously owned by Gullane[47] and sold to Ripley Entertainment in 2008.[48] |
| Magic Adventures of Mumfie | 2002 | Previously owned by Gullane and sold to Britt Allcroft in 2009. |
| Little People | 2016 | Announced partnership to produce the show with DHX and HIT's parent, Fisher-Price in 2014, with a planned 2015 release.[49] |
Distributed
Name
First year
Final year
Notes
Animal Jam
2004
2009
Distributed worldwide[50]
Fraggle Rock
Emmet Otter's Jugband Christmas
The Animal Show
City Kids
Construction Site
Fraggle Rock Animated
Mopatop's Shop
Mother Goose
The Secret Life of Toys
Telling Stories with Tomie DePaola
The Ghost of Faffner Hall
The Hoobs
The Wubbulous World of Dr. Seuss
Dog City
Down at Fraggle Rock
Henson's Place
Song of the Cloud Forest
The Christmas Toy
VeggieTales
2001
2002
Distribution went to Warner Home Video after HIT acquisition from Lyrick Studios.
Fifi and the Flowertots
2007[51]
2012
Distributed in North America & Japan
Roary the Racing Car
Little Charley Bear
2012
Held broadcasting rights for NRK (Norway), SVT (Sweden), TVNZ (New Zealand), ATV (Hong Kong), S4C (Wales), Mini Mini (Poland), and Minimax and Happy TV (Bosnia and Herzegovina, Croatia, Czech, Kosovo, Serbia, Slovenia, Slovakia, Macedonia, Moldova and Montenegro).[52]
The Wiggles
2001
Held US & Canada distribution from 2001-2007. Held UK distibution from 2005-2012
Wallace and Gromit
2008
2012
Held distribution in North America
Shaun the Sheep
Timmy Time
2009
2012
Held distribution in North America
ToddWorld
2004
2006
Held distribution rights for DVD and VHS in the U.S. and Canada[53]
Oswald
2001
2004
Held international distribution for VHS and DVD.
Postman Pat
1991
2002
Held distribution outside of the UK.
Gallery
Logos
Variants
See Also
References