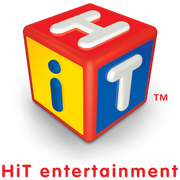 HIT Entertainment Ltd. (styled "HiT") is a British-American entertainment company owned by Mattel and originally established in 1982 as Henson International Television (formerly styled "hit!"). It was founded as the international distribution arm of Jim Henson Productions. HIT owns and distributes children's television series such as Barney & Friends, Bob the Builder, Thomas & Friends, Fireman Sam, and Angelina Ballerina.
About HIT Entertainment
HIT Entertainment is one of the world's leading children's entertainment companies, specialising in building powerful brands based on engaging stories. HIT Entertainment's world-class portfolio includes Thomas & Friends®, Mike the Knight™, Fireman Sam™, Bob the Builder, Barney™, Angelina Ballerina™, Pingu™ and Rainbow Magic™.
HIT Entertainment excels at creating and building globally successful brands which capture the hearts and imaginations of Children and their families . This is achieved through exceptional storytelling in multiple formats, enhanced by creating high quality character-based products and experiences with best-in-class partners. HIT Entertainment's lines of business span television and home entertainment production, content distribution, digital media, and live events and attractions. HIT Entertainment, a subsidiary of Mattel, Inc., has operations in United Kingdom, the United States of America, Canada, Hong Kong and Japan.
Distributors
From 2006-2008, 20th Century Fox Home Entertainment distributed videos for HIT Entertainment. Soon, the distribution deal ended and transferred to Lionsgate Home Entertainment who distributed HIT's videos from 2008-2014. On May 2, 2014, HIT Entertainment announced a new home video deal with Universal Pictures Home Entertainment. They started distribution fall 2014.
Projects
Barney (2001-present)
The Wiggles (2001-2007)
Angelina Ballerina
Bob the Builder
Kipper
Thomas & Friends
Rubbadubbers
Pingu
Fifi and the Flowertots
Roary the Racing Car
Timmy Time
Mike the Knight
Fireman Sam
Rainbow Magic
Logos
See Also
External Links
Community content is available under
CC-BY-SA
unless otherwise noted.