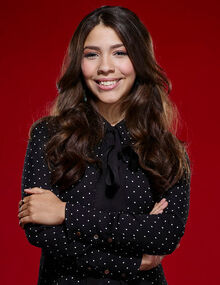 Halle Tomlinson (born January 10, 1998) is an American singer and actress. She was born in Dallas, Texas[1] but currently resides in Boulder, Colorado.[2]She portrayed the role of Sofia in season eleven of Barney & Friends. She also portrayed the role of a Can Can dancer in the episode "Bonjour, Barney!: France".
Life and Career
Early Life
At a very young age Halle began playing piano and honing in her creative songwriting skills which led to her extensive catalog of music. She went on to learn guitar, drums, and bass while training with some of the most prestigious coaches to date.
She grew up in Dallas where her parents, both choreographers, owned a performing arts studio. "I was always there," Halle says. "That was my life." And it led to some unique opportunities. For instance, she wound up appearing on the Barney show. Her parents owned the studio for 11 years before going out of business. Her parents split, her mom remarried and they moved to Colorado. Halle is now an instructor at the School of Rock.
Career
In October 2016, Halle auditioned for the The Voice. She auditioned with Billy Joel's "New York State of Mind," showing off impressive bluesy, jazzy vocals that prompted almost immediate chair turns from Adam Levine and Alicia Keys. Alicia said Halle has an instantly recognizable voice and praised her effortless performance. Adam liked the creativity Halle showed by stripping down the song. Hallie joined Team Alicia.
External Links
References