Happy Holidays Love, Barney (Happy Christmas Love, Barney in the United Kingdom) is an album that was released on CD and cassette on September 30, 1997, distributed under the music division of Lyrick Studios. It was later re-released in 2003 under Koch Records.[3]
On April 10, 2020, the album was transferred to Warner Music Group's Arts Music division, along with other Barney albums, as Mattel entered into an exclusive, multi-year global music licensing agreement between the company, announced on May 1, 2020.[4]
Happy Holidays Love, Barney is the sixth album released by the purple dinosaur and is the first holiday themed album in the franchise, but the second Christmas cassette, after Waiting for Santa. The holiday album soon to come would be Feliz Navidad con Amor Barney.
The same year of the album's release, it commercially went on to peak at number eleven on Billboard's Top Holiday Albums chart on November 29, 1997.[5] The next month, it peaked at number two on Billboard's Top Kid's Albums on December 13, 1997.[6] On the same day, the album went on to be in Billboard's 200 peaking at #150, making it the third Barney album to hit the Billboard 200 chart.[7]
Critical reception
Professional ratings
Review scores
Source
Rating
allmusic
2.5/5 stars
At AllMusic, Ross Boissoneau rated the album two and a half stars out of five, saying that Happy Holidays Love, Barney is "Strictly for fans" as most of the album features traditional Christmas and holidays songs. However, Boissoneau stated that the arrangements are "snappy".[8]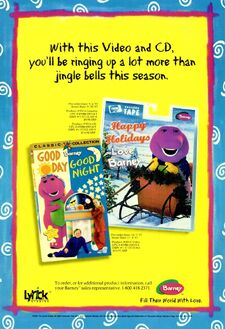 Track listing
Gallery
Releases
Cassette
Personnel
Credits for Happy Holidays Love, Barney adapted from AllMusic.
Charts
| Chart (1997) | Peak Position |
| --- | --- |
| US Billboard Top Holiday Albums | 11 |
| US Billboard Top Kid Albums | 2 |
| US Billboard 200 | 150 |
Release history
Region
Date
Format
Label
Original
September 30, 1997
Cassette • CD
Lyrick
United Kingdom
1998
PolyGram
Various
2003
CD
HIT • Koch
South Africa
2005
HIT • NEXT
Various
December 6, 2011[9]
digital download
HIT
April 10, 2020[10]
digital download • streaming
Arts • Mattel
Trivia
Videos
Promo
References