"Having Tens Of Fun!" is the seventeenth episode from the second season of Barney & Friends.
Plot
The kids are in for "tens of fun" when Barney's friend, "Mr. Tenagain" visits. His passion for all "things 10" leads to playing knick-knack, counting toes, the reading of "Ten, Nine, Eight" and an account of his trip to the moon in outer space. Snack time generates some antics in a pretend kitchen, and a delightful picnic - visited by some rather unusual ants! Finally, Mr. Tenagain leaves surprise instructions on "the nicest way to count to 10".
Poems: Hello! Hello! Hello! Again! / A Very Simple Way to Make the Number 10
Stories: Ten, Nine Eight
Songs
Trivia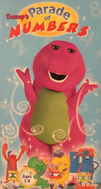 Goofs
Michael has the red number 10 on the front and the back of his soccer shirt. However, in "The Exercise Circus!", he has the red number 14 on the front and the back of his soccer shirt.
Although knowing how to count to "10" in this episode, Baby Bop doesn't know how to count to "10" in "A-Counting We Will Go!".
International Edits
In some international versions, this episode was shortened.
In the Hebrew version, the Season 3 version of "I Love You" was used, due to it being one of the last episodes of the series.