Hi! I'm Riff! is a Barney Clip Show that was released on May 6, 2008.
Plot
Riff wants to start a club, but he doesn't know what type. So, Barney and his friends give him ideas on different kinds of clubs they would like. Riff finally makes the decision to start a "Best Friends Club", where he and his friends can do whatever they would like!
Cast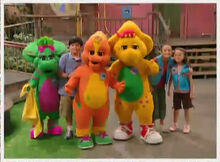 Songs
Gallery
Releases
Trivia
This video marked:

This video was re-released in 2011, as a part of the "Learn with Us" series.
In the United Kingdom and Australia, the title was called "Riff's Clubhouse".

Barney Home Video
Barney & the Backyard Gang

•The Backyard Show (1988) • Three Wishes (1989) • A Day at the Beach (1989) • Waiting for Santa (1990) • Campfire Sing-Along (1990)
• Barney Goes to School (1990) • Barney in Concert (1991) • Rock with Barney (1991)

1992
1993

• Barney's Best Manners • Barney Rhymes with Mother Goose • Barney's Home Sweet Homes • Love to Read, with Barney

1994
• Let's Pretend with Barney • Barney's Alphabet Zoo • Barney Live! In New York City • Imagination Island
1995

• Barney's Families are Special• Barney Safety • Making New Friends • Riding In Barney's Car • Barney Songs

1996

• Barney's All Aboard for Sharing • Barney's Talent Show • Barney's Fun & Games • Barney's Exercise Circus / Barney's Parade of Numbers • Barney's 1-2-3-4 Seasons • Once Upon a Time

1997

• Barney's Sense-Sational Day • Barney's Colors & Shapes • Barney's Musical Scrapbook • Camp WannaRunnaRound
• Barney's Adventure Bus • Barney's Stu-u-upendous Puzzle Fun! • Barney's Good Day, Good Night

1998

• It's Time for Counting • Down on Barney's Farm • Barney in Outer Space • My Party with Barney • Barney's Big Surprise
• Barney's Halloween Party • Barney's First Adventures • Barney's Good, Clean Fun! / Barney's Oh, Brother...She's My Sister

1999

• Sing and Dance with Barney • What a World We Share • Walk Around the Block with Barney • Let's Play School
• Barney's Night Before Christmas • More Barney Songs

2000

• Barney's Rhyme Time Rhythm • Barney's Super Singing Circus • Come on Over to Barney's House • Be My Valentine, Love Barney

2001

• Barney's Musical Castle • A to Z with Barney • Barney's Dino Dancin' Tunes • Let's Go to the Zoo • Barney's Pajama Party

2002

• You Can Be Anything • Barney's Beach Party • Round and Round We Go •Barney's Christmas Star

2003

• Barney Songs From the Park • Read with Me, Dance with Me • Barney's It's a Happy Day! • It's Nice to Meet You
• Barney's Red, Yellow and Blue! • Barney's Numbers! Numbers! • Barney's Best Manners: Your Invitation to Fun! • Happy Mad Silly Sad

2004

• Movin' and Groovin' • Let's Pretend with Barney • Now I Know My ABCs • Barney's Colorful World! • Ready, Set, Play!

2005

• Let's Go to the Farm • Just Imagine • Everyone Is Special • The Land of Make-Believe• Can You Sing That Song?

2006
2007

• Let's Go to the Fire House • Shake Your Dino Tail! • Dino-Mite Birthday

2008

• Celebrating Around The World • Barney's Animal ABC's • Hi! I'm Riff!• The Best of Barney

2009

• Once Upon a Dino-Tale • Top 20 Countdown • Let's Go on Vacation • Sharing is Caring! • Barney's Jungle Friends • We Love Our Family

2010

• Please & Thank You • Egg-Cellent Adventures • Let's Play Outside • Furry Friends • A-Counting We Will Go • Best Fairy Tales

2011

• Musical Zoo • Shapes and Colors All Around • I Can Do It! • 1-2-3 Learn • Big World Adventure • A Very Merry Christmas

2012

• I Love My Friends •Clean Up, Clean Up! • Planes, Trains & Cars • All About Opposites • Most Loveable Moments • Let's Go to the Doctor

2013

• Let's Go to the Moon • Play with Barney • Dance with Barney • Imagine with Barney • Most Huggable Moments• Perfectly Purple

2014

• Story Time with Barney • Happy Birthday, Barney! • A Super-Dee-Duper Day • This Is How I Feel

2015

• Tee-Rific Bugs & Animals • It's Showtime with Barney • Barney's Worldwide Adventure!

2016
2017
Other Releases
Feature Film
Blockbuster

•Play and Learn with Barney •Barney's Favorite Songs•Barney's Big Top Fun •Barney's Time For School •Barney's Rockin' Rhyme Time •Barney's Valentine Adventure •Moving and Grooving with Barney • Barney's Night Light Stories•Barney's Island Safari •Barney's Learning Round-Up•Going Places with Barney • On The Move with Barney •Barney's Summertime Fun • Barney: Sing Along Fun

Rereleases

• Barney's ABCs and 123s • Barney's Outdoor Fun! •Let's Go to the Beach •Barney's Book Fair • Fun on Wheels
• Mother Goose Collection