If you don't give up and you keep on trying, you can do just about anything you want to do!

— Barney
"Hop To It!" is the fourth episode from the first season of Barney & Friends.
Plot
When Tina and Luci are playing basketball, Tina is upset when she can't perform a basketball trick like her sister can. Barney stops by to show Tina all the great things she can do with exercise. Barney and the kids play games and sing songs about exercise and find out how fun it is to learn about their bodies. With new found energy and confidence, Tina ends up being able to do the trick.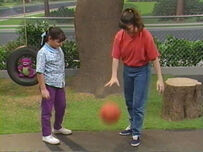 Songs
Trivia
This episode marked:

The only episode in which every song (save for the "Barney Theme Song" and "I Love You") is a new Barney song.
The first time Baby Bop magically appears.
The second time in which "I Love You" is sung as a duet.

This episode reveals that Min doesn't like to take naps.
A different Barney doll is used at the beginning of this episode. It would be seen again in "Going Places!".
International Edits
In the Israeli version of this episode (which is called "Hands on the Head" in that production), after the kids get Barney unstuck, if you look carefully behind the tree, you can see Baby Bop. Also in the same scene the "Barney Theme Song" is heard.
In the Israeli version of this episode, when the kids were looking for Dana, the Barney doll can be seen even though Barney had already came to life after Dana sung her sad song.
Also in the Israeli version of this episode, the song, "Animals in Motion" was shortened.
Community content is available under
CC-BY-SA
unless otherwise noted.