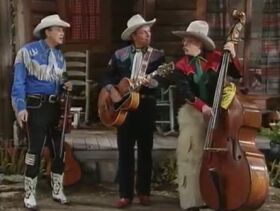 How Does He Yodel?
is a song, performed by "Riders In The Sky". In the Barney franchise, it appeared in
Howdy, Friends!
.
Lyrics
How does he yodel?
Odelayhedee,
When does he yodel?
Odelayhedee,
Why does he yodel?
It sure beats me,
Odelayhedeeheayedee.
I love to hear the cowboy sing a happy yodeling song,
Something makes me wanna start just yodeling along (Me too),
But way back near my epiglottis,
It always ends up wrong
Ohhh, Ahhh, Ohh
Help Ranger Doug!
How do we yodel?
Odelohoodoo,
When do we yodel?
Any time will do,
Why do we yodel?
I wish I knew,
Boy we do to!
(Ranger Doug Yodeling)
Song Used In..
Trivia
In the foreign language dubs of Howdy Friends, this song did not get translated and remains in English.
Joey Miskulin (The Accordionist from Riders in the Sky) does not appear in Howdy Friends for unknown reasons. However during the song, the Accordion can clearly be heard.
Riders in the Sky also done the Woody's Roundup song in Toy Story 2. This song also appears on a Toy Story 2 album called 'Woody's Roundup: A Rootin' Tootin' Collection of Woody's Favourite Songs'. In this album, the song's title was changed to 'How does she yodel?' with Devon Dawson as Jessie doing most of yodeling along side Ranger Doug.
Community content is available under
CC-BY-SA
unless otherwise noted.