It's Time For Counting is a Barney Home Video that was released on January 13, 1998.
Plot
When the numbers from Stella's alarm clock get missing, Barney and the kids help search for the rest of the numbers. They head to the school library, where they read some classic children's stories. When all the numbers are returned to the alarm clock, Stella has a very special surprise for Barney and his friends!
Cast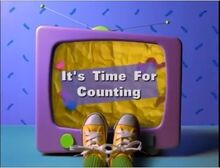 Songs
Stories
Gallery
Releases
Promotion
Trivia
This video marked:
Brice Armstrong, the actor that portrays Miss Etta Kette on the television series, provides the voice for Beauregard the Cat. 
When Barney is taking a picture of Stella and her cousins, you can hear one of them say "sneeze".
Although this video was released in 1998, the end credits actually say "Copyright 1997 Lyons Partnership, L.P.", which could mean that this video was produced in 1997.
If you translate the title of the Spanish release (on the cover), it's called "It's Time for Counting with Barney".
Although David Bernard Wolf composed the music for this video, he was uncredited.
The farm set where 2 stories are acted in this video was previously used in "E-I-E-I-O".
BJ is mentioned in this video.
Josh Martin and Lee Clark performed Barney and Baby Bop in this video, as David Joyner and Jeff Ayers were taping "Barney's Great Adventure" at that time.
The 2006 DVD release of this video includes "Squares, Squares Everywhere" as a bonus episode.