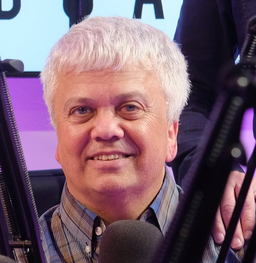 Jeffrey Glenn "Jeff" Ayers
(born June 26, 1965 in North Pole, Alaska) was the third costume performer for Baby Bop from 1993 to 2008. Ayers also took turns portraying the costume of
Riff
in 2008.
Early Life
Ayers used to be a mascot in high school and college, and worked for the National Cheerleading Association teaching mascots all over the country doing cheerleading camps. Ayers wanted to be a professional mascot after college. He went on to the Mavericks, Cowboys and presented a plan to them. He soon got in touch with Ted, the San Diego Chicken, and hooked him with the Chicago Bulls, which fell through.
Career
Barney & Friends
Several years later, Peggy Taylor, his casting agent, wanted him to audition for a character on Barney & Friends.
To research the franchise, he watched one of the videos and didn't have a clue that he was auditioning for Baby Bop. He goes to KD studios to walk into a room full of girls in ballet outfits. Through the audition he portrayed several emotions, like shyness and was later asked to put on the original Baby Bop costume.[1]

Ayers portrayed Baby Bop from Season 2 (1993) to Season 12 (2008) with his last appearance in "The Misbegotten Moon: A Space Adventure" as Baby Bop. In Season 12, he would take turns being the costume performer of Riff in six occasions.
Roles as Riff
Personal Life
Jeff Ayers has been married to Kim Ayers since 1994.
Gallery
Trivia
Jeff Ayers portrayed Snowflake, one of Santa's Elves in the episode "A Visit to Santa".
Videos
References
Community content is available under
CC-BY-SA
unless otherwise noted.