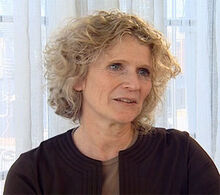 Jocelyn Stevenson was the executive in charge of production of Barney & Friends from 2002-2006. She replaced Richard C. Leach but soon got replaced with Lenora Hume starting in 2007. She only wrote one episode for the franchise which was the episode Red, Yellow and Blue!
About Jocelyn Stevenson
Her career first started the Henson Company. She started writing several Muppet-based children's books. She then went on to work as one of the co-creators and writers for Fraggle Rock. After that, Jim Henson asked her to develop the script for Tale of the Bunny Picnic[1], and would later work on Henson's Mopatop's Shop and The Hoobs, both produced for the UK.
Her other television work includes Barney & Friends and The Magic School Bus. She wrote the television scripts for the Funny Bones series of books and created the character of Charlie Chalk. Between 2002 and 2006, she was the executive in charge for HiT programs such as Thomas & Friends, Rubbadubbers, Angelina Ballerina, Bob the Builder, Pingu, and Barney She currently works for Mind Candy, the company behind Moshi Monsters, overseeing their film and television productions, including the 2013 UK and Ireland theatrical release of Moshi Monsters: The Movie.
Stevenson received a BAFTA Special Award at the 2015 British Academy Children's Awards ceremony on November 22. Prior to this event, she did an interview for the BBC Breakfast News.