Julie Johnson (born November 16, 1958 in Whitewright, Texas.[1]) is a country singer and actress. Among her many acting roles, she is most famous for voicing Baby Bop on Barney & Friends.
Life and Career
Early Life
As Julie Johnson grew up listening to a broad range of musical styles, she gave her first performance at the age of three. She earned a theater arts degree from Austin College in Sherman, Texas, she began making her mark on Broadway, Off-Broadway, film and television, as well as in regional theater, with a loyal and growing following in New York, Virginia, Dallas/Fort Worth and beyond. After a while, she settled back into her roots of Texas which then sparked her interest in country music.
Present
Julie Johnson's exciting career spans Broadway, Off-Broadway, regional theater, and concerts. Her recent concert Julie Johnson SINGS received critical acclaim and enjoyed a very successful run. In 2003, Julie Johnson made her Carnegie Hall debut singing with the New York Pops Orchestra under the direction of Skitch Henderson.
Julie Johnson portrayed Mama in the first national tour of the Broadway Musical Memphis. She was honored to play Mrs. Lovett in a concert version of Sweeney Todd at The Morton Meyerson Symphony Center in Dallas. She starred opposite Sally Struthers in Always, Patsy Cline at Casa Manana in Fort Worth and has portrayed Patsy Cline in eight productions of A Closer Walk with Patsy Cline with co-star Steve Barcus. She has been featured in films such as Pure Country with George Strait and The Apostle with Robert Duvall. She also has appeared on episodes of As The World Turns. She also starred in a new musical Look Homeward, Honky Tonk Angel.[2]
In 2019, Julie Johnson joined the first national tour of Come From Away, portraying the roles of Beulah and other characters.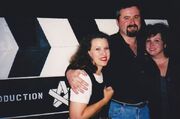 Artistry
Julie Johnson grew up listening to a wide variety of music -- from Broadway show tunes to George Jones.
Discography
Roles
References
External Links