Kathryn O'Rourke Parker[1] (born in Harbor Beach, Michigan)[2] is best known as being one of the co-creators of the Barney the Dinosaur franchise, having involvement and executive producing the video series Barney & The Backyard Gang and its successor Barney & Friends, alongside creator Sheryl Leach and co-creator Dennis DeShazer.
Early Life
Parker was born in Harbor Beach, Michigan but grew up in Davidson, Michigan.[2] Her father is Raymond Joseph O'Rourke [3][4] and her mother is Dorothy O'Rourke.[5]
Education
Parker attended East Michigan University[2] where she received a B.S. in Special Education and a M.A. in Learning Disabilities in 1976 and 1979 respectively. She taught in Burton, Michigan Otisville, Michigan between 1976 and 1981 before moving to Texas.
Career
The Lyons Group
She worked in the marketing department at Richard Leach's children's publishing company, Dynamic Learning Materials prior to her involvement with Barney. When Sheryl pitched Barney & The Backyard Gang to her father-in-law Richard, he asked that Kathy help to develop the character and show concept.
She served as a producer and executive producer of both Barney & The Backyard Gang and season one and two of Barney & Friends. She also served as the Senior VP of Business Development of The Lyons Group. Parker left the show in 1993, her final involvement with the show was Barney Live! In New York City.
Parker split from the franchise in May 1994 after Leach took sole credit for the idea of Barney in a follow-on feature in The Dallas Morning News.[6] Parker had asserted legal claims against Barney's parent company, Lyrick Corporation, and subsequently entered into a confidential settlement.[7]
Boards & Committees
Parker has spent time on the boards or committees with Children's Advocacy Center of Collin County, Avenues Counseling Center, National Children's Cancer Society, National Children's Alliance and The Samaritan Inn homeless shelter in McKinney.[8]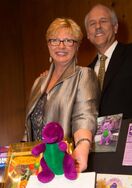 Achievements
In honor of her work of Barney & Friends, Parker was named a recipient of the 2016 Walt Disney Motif Award Award Advancement of Education Medal Of Honor in memoriam of Fred M. Rogers.[8][1]
Personal Life
Parker has been married to her husband Phil for over thirty-seven years. Together, they have a daughter named Kaitlin and a son named Ryan.
Trivia
Parker came up with the idea having Barney having no sharp teeth and claws, as it would've scared her daughter. She also came up with the idea of having him colored purple.[9]
References