This video is not to be confused with the 2004 video.
Let's Pretend with Barney is a Barney & Friends Episode Video that was released on January 19, 1994. It is the home video release of the episode "An Adventure In Make Believe".
Gallery
Releases
Trivia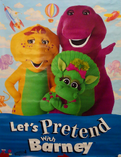 On the right side bottom of the front cover, it says "Introducing BJ" although his first appearance was in "Look At Me, I'm 3!". This was the first commercially-sold video release to feature

BJ

, as Love To Read, With Barney was his first appearance on video.
This is the first home video to have an underscore of the "Barney Theme Song" to be heard in the Barney Home Video logo opening.
This video was released on Monté Black's sixth birthday.