Love To Read, With Barney is a Barney Clip Show that was released by The Lyons Group, JCPenney, and the American Library Association. It was only available by getting it at libraries, which makes it very hard to find. It was released on December 19, 1993, and is a clip show of Season 2 episodes.
Plot
Barney has been returning a library book to the library. He meets up with Ms. Stevens, who is a librarian, and she shows Barney all over the library and tells him about programs and activities that go on over there. Clips from Season 2 episodes related to the topics that Ms. Stevens and Barney talk about, are also shown.
Cast
Stories
Songs
Gallery
Releases
Trivia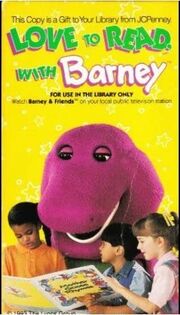 This video marks:

The first clip show in the Barney franchise.
The first Barney video, (that isn't a live concert recording) to be filmed on location.
The first time not to have any kids. However, they were seen in some clips from Season 2 episodes of Barney & Friends.
The only appearance of Ms. Stevens.
The first and only publicly released video where they show the "Barney & Friends" funding credits. Before this, only videos released by Time Life Video showed them.
The second time Barney is not seen coming to life. Instead, he is seen going to the library.
The final appearance of the Season 2 Barney costume.

The library that Barney went to (where this video was filmed) was the Allen Public Library in Allen, Texas.
During the "I Love You" scene from the episode "Look at Me, I'm 3!", the camera angles are a bit different from the original airing of the episode.
Luci's name (along with her actress Leah Montes) is seen in the credits, even though there wasn't a clip shown from "The Exercise Circus!", which was Luci's one and only Season 2 appearance.
Despite not guest appearing as any character in Season 2,

 

Stephen White is credited. 
On the front cover of the VHS, Barney and three kids can be seen reading "Barney's Favorite Mother Goose Rhymes", the slight differences are that the cover art design of Barney isn't seen on the front cover of the book unlike the actual one. So instead, the book title card is titled as "Mother Goose Rhymes", which is centered in the middle of the book.
At the end of this video, the 1993 PBS Kids ident is omitted; instead, it has been replaced by a special message which says "Watch Barney & Friends on your local public television station."
This video was released on Wesley Farnsworth's 4th birthday.
Production for this video took place in September 1993.