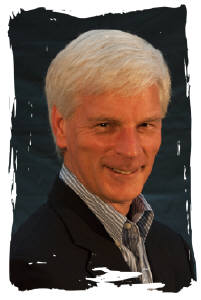 Mark S. Bernthal was a writer of the Barney & Friends franchise from 1992-2005.
Biography
Mark S. Bernthal worked in Human Resources positions with two companies using television as a training vehicle, where he was able to write and direct some award-winning educational dramas, comedies and musicals. Then, in the L.A. airport, following a seminar sweep of the west coast, a TIME magazine cover story on Steven Spielberg led Mark to impulsively resign an officer's position to allow full-time pursuit of those activities he was more interested in.
Ironically, while writing and directing an analogy between the evolution of a task force and four strangers trapped in an elevator, Bernthal learned that a children's show in which PBS had an interest was looking for writers. That show was to feature a friendly purple dinosaur, and - with friend and fellow writer, Stephen White - Bernthal helped introduce Barney & Friends to an international audience. 
A cameo appearance as Mr. Deliveryman in the episode "Everyone is Special" confirmed to Bernthal that he would stick with writing. Since then, he continues to take opportunities to contribute to a wide variety of children's fare.
Barney Projects
Community content is available under
CC-BY-SA
unless otherwise noted.