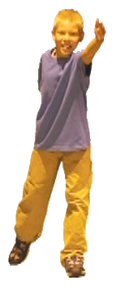 Mike was a character who only appeared in Barney's Colorful World! He was played in Blake Garrett. He never appeared in the television series.
About Mike
Mike was 11 years old when he went on tour of Barney's Colorful World!
Favorite Song: Mr. Knickerbocker. He likes the song because it's upbeat and he likes the hand motions
Favorite Color: Blue
Favorite Sport: Football. His favorite team is the Dallas Cowboys
Favorite Food: En Chalada and Salsa
Favorite Holiday: Christmas. He likes Christmas because everyone is always happy and he gets presents.
His favorite part of Barney's Colorful World is when he appears out on stage because he sees everyone for the first time.
When Mike grows up, he would like to be an actor.
Barney is special to Mike because he always has a smile on his face, he's always happy and whenever your down he always cheers you up.
Trivia